Chemical giant DuPont said at a recent press conference that its performance plastics line will contain more than 50 percent renewable materials within 15 years. I'd heard an earlier, non-numerical statement of this push last year from Marsha Craig, global business director of DuPont's renewable materials group, so I decided to follow up with her.
The statement, made by Lewis Manring, DuPont's vice president of global technology for performance plastics and automotive technologies, was reported in an article in our sister publication Plastics Today. According to that article, Manring said the company's first preference is to use feedstocks derived from crops that aren't also used for food, and that it was looking at new ways to make monomers for basic plastics from carbon-based resources that can be regenerated quickly.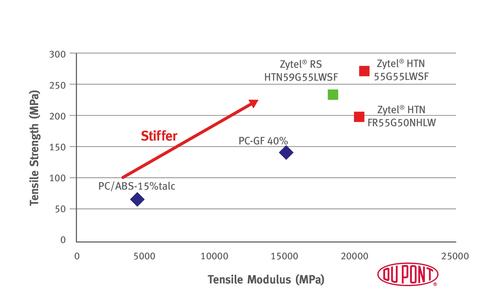 When I talked to Craig last year, she said her vision was eventually to convert the entire line of petro-based engineering plastics to renewables, as long as it was technically and economically feasible. This year, she told us, "Our goals for shifting our advanced materials to renewable versions have always been broad and far-reaching. Lewis Manring's recent statement is probably the first time we're being more specific. We continue to believe this is important to our customers and that it's possible to do." Within the last year, DuPont has made progress and invested in its priority renewable products.
By renewable DuPont means bio-based materials, said Craig. "Sustainable" describes a larger category that includes bio-based and recycled materials, or those that are produced in some other sustainable way. These definitions are common in plastics, but they also apply to fuels, according to the company's website, where it's stated that DuPont Renewably Sourced Materials contain at least 20 percent renewably sourced ingredients by weight. As Craig said last year, these plastics must have performance at least as good as do the 100 percent petro-based polymers they replace.
Regarding the food-based crop issue, DuPont is not only focused on renewables. A shift to non-food-based plastics is at the top of its list. "All of our medium- to long-term research in engineering plastic feedstocks is based on the need to move to non-food-based sources," Craig said. That's a very strong statement from any materials maker. She also said the food-versus-fuel question is an important one that the industry must address, and that it will arise more often in some markets.
Two of the three renewable materials in DuPont's current performance plastics portfolio are already based on non-food feedstocks. Hytrel comes from plant waste and Zytel RS comes from the castor bean plant. This plant is not used for food, and grows on dry, poor-soil areas not suitable for growing food crops. Although Sorona is based on a corn sugar stream from animal feed corn that's not consumed by people, DuPont intends to shift this over time to a feedstock based on plant waste.