Just over a year ago, we told you about Corning's super-thin, flexible Willow Glass; so thin it can be rolled into small tubes. The company has been working with several different industries, and we now have more information on some of the potential applications this unique material may be used for, such as the barrier layer in solar panels.
Corning is already known for making a different material: The Gorilla Glass that's used in smartphone displays as a protective outer cover. The new, paper-thin Willow Glass can also be used for displays, but these are substrates with flexible electronic devices printed on them. At 100 microns thin, it can be rolled into tubes with a diameter as small as 2 inches. This makes it adaptable to high-volume, low-cost, roll-to-roll manufacturing processes, which has not been done before with glass.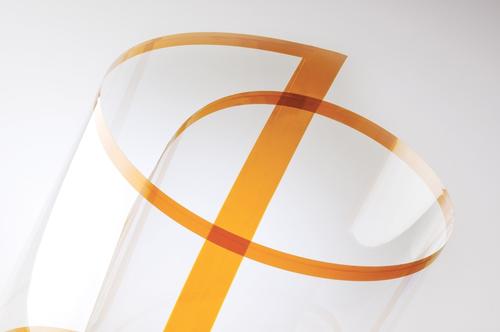 This also makes it useful for several applications. For example, displays that can be wrapped around a consumer electronics product are possible because of the material's thinness, flexibility, and strength. On a larger scale, a conformable display could be wrapped around the outside of a building, or on its inside for immersive viewing. Some non-display applications include use as a barrier layer that protects electronics in flexible solar cells and touch sensors, or the color filters inside an OLED display.
Because roll-to-roll manufacturing processes require high temperatures up to 500C, the polymer films typically used for plastic displays can't be made this way. But that's not true of glass. So last year, Corning began collaborating with research institutions, equipment makers, and industrial customers to develop a process design for roll-to-roll manufacturing optimized for Willow Glass, in addition to developing the necessary process-compatible equipment.
In March, Corning began offering samples of Willow Glass to its customers in both spools and separate sheets either 100 microns or 200 microns thick, according to a press release. The company says it is helping customers adapt to using glass in roll-to-roll processes by offering assistance in retrofitting old lines or building new ones.
The company is also talking more about several different barrier applications. These include an encapsulation barrier for OLEDs, and the barrier layer in solar cells and panels. That barrier layer would weigh 97 percent less than the 3-mm-thick glass that's used today.
You can watch a video here that describes the glass, including the importance of roll-to-roll processes and conformable displays. At 1:20, Dipak Chowdhury, Willow Glass program director, begins describing the anatomy of a typical display, which is shown in an exploded drawing that includes substrates, color filters, thin-film transistor (TFT) array, cover material, and touch sensor layers. He says that today, this adds up to a thickness of 2 mm to 3 mm, but that 0.1 mm (100 microns) thick Willow Glass could replace all of it in the future by performing all of these functions. That's because of the material's formulation. The glass was designed to perform exceptionally well with electronic components, and has excellent surface, thermal, and optical properties.
Later in the video, Jill VanDewoestine, Corning's commercial program manager for flexible glass, says that some displays made with the glass could not only be curved, but could also be flexed during use. That sounds a lot like what's possible with flexible plastic electronics like Plastic Logic's. She also mentions large-area, low-cost, flexible solar cells. Because they could also be lightweight, they could conform to the shapes of a building, such as awnings and garages, or built into windows. In addition, OLEDs can be printed on flexible glass and used in a curved shape. "Instead of the light having a lightbulb, the lampshade could actually generate the light," she said.
Related posts: