NASA and Aerojet Rocketdyne have completed hot-fire tests on a 3D-printed rocket injector assembly. The liquid-oxygen/gaseous hydrogen rocket injector assembly was built with a selective laser melting (SLM) process that uses high-powered laser beams to fuse powdered metals.
The tests were done at NASA's Glenn Research Center. Aerojet Rocketdyne, which produces propulsion systems, missiles, and launch vehicles, provided data about material design and the additive manufacturing (AM) process for the hot-fire tests to ensure reliability and safety. The manufacturer's engineers designed the injector as part of an effort to save costs by reducing the manufacturing lead times for complex rocket engine components. The injector can be produced in about four months, instead of more than a year using traditional manufacturing methods.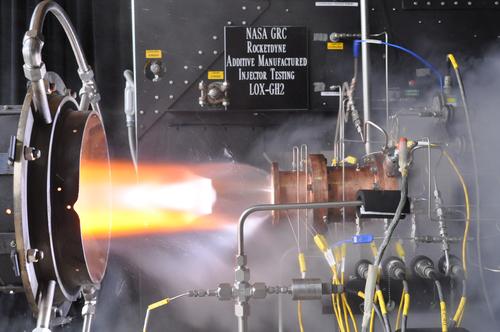 Aerojet Rocketdyne said in a press release that it's pursuing methods for achieving an integrated AM process, along with related analysis and design tools and component technologies, to make it possible to manufacture rocket engine components with SLM. The successful testing of the rocket injector was a first step in making this possible. Future steps will include scaling up the process and establishing production requirements. The company says on its website that it's also involved in developing new materials (including metallics), AM techniques, and powder metal technologies.
We've discussed several NASA 3D printing ventures previously. A program at the agency's Marshall Space Flight Center uses an SLM process to make metal engine parts for the Space Launch System, a next-generation heavy-lift rocket. The parts are being built with Concept Laser's M2 Cusing machine and powdered metals. Another NASA project aims to give astronauts quick access to tools, replacement parts, and instruments. The agency partnered with Made in Space to develop a 3D printer astronauts can use on the International Space Station.
Aircraft engine makers are pursing their own R&D projects. GE Aviation is using direct metal laser melting AM techniques to make production components for some of its engines. It expects new in-process inspection technology it is co-developing with Sigma Labs to reduce AM times and help assure build quality and repeatability. Pratt & Whitney has opened its own lab at the University of Connecticut to advance R&D for the AM processes that produce metal aircraft engine parts.
If the 3D printing of metal end-use production parts becomes integrated into regular manufacturing flows, it may happen first in aerospace. Manufacturing tends to involve low volumes and very high performance requirements. That means multiple iterations, which AM makes especially easy. And the National Additive Manufacturing Innovation Institute was launched to help revitalize research in areas like defense and aerospace.
Related posts: