What would happen if manufacturers could 3D print not only a component, but also all the electronics on it, including those on its curved surfaces? For starters, it would speed up production. It could also give engineers more design freedom by letting them place electronics where they want on complex shapes.
This isn't a reality yet, but it may not be too far away. For the past year or so, Stratasys has been working to combine its 3D printing solutions with Optomec's Aerosol Jet thin-film conformal printing process for electronics. Click the image below to see examples of that process.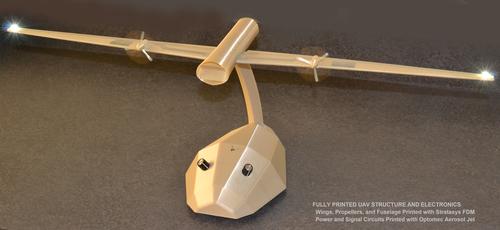 Ken Vartanian, Optomec's director of marketing, told us the process can print a broad spectrum of conformal functional circuitry, including sensors, EMI shielding, antennas, and a variety of active and passive components. Conformal printing goes beyond typical flexible electronics, which are printed on a flexible strip. It matches the varied, three-dimensional surface on which it's printed, with all its miniature mountains and valleys. It can also print features on flat surfaces.
Nonprintable ICs can be attached to plastic parts with conductive epoxy paste. There's no soldering required, since the process was designed to work with low-temperature substrates like plastics, as well as flexible substrates, Vartanian said. "We've printed EMI shielding on missile nosecones, and we've even printed thin-film transistors."
Since the droplets are about two microns in diameter, the process can't be used to print nanoscale circuits such as ICs on a silicon wafer. The possible feature sizes range from 5-10 microns to several millimeters. A wide variety of materials can be used, including conductive metal and polymer inks, dielectrics and adhesives, resists, etchants, and resistor inks.
In April, Optomec, Stratasys, and the unmanned aerial vehicle supplier Aurora Flight Sciences presented the results of their collaboration with a demonstration UAV project at the Additive Manufacturing User Group Meeting. The Aerosol Jet process was used to print a conformal sensor, an antenna, and related circuits on the wing of a UAV model built by Aurora. Other circuits printed on the wing with this method power an LED and the propeller. The ink was sintered at 300F (149C).
The wing structure was made with Stratasys' Fused Deposition Modeling process using its aerospace-grade ULTEM 9085 thermoplastic. Aurora designed the sensors and electrical system. Optomec a short YouTube video showing closeups of the printer electronics on the UAV's wing. Another video shows a dual-loop antenna being printed on a mostly flat surface.