In some Design News blogs on alternate energy, readers have commented on whether solar energy can be used to power vehicles directly. Of course, propelling a vehicle requires a lot more energy than powering a lightbulb. So far, we've seen solar power combined with wave motion to power the Wave Glider robot and with batteries to power a wheelchair. We've also told you about solar energy combined with fluctuations in the jet stream to power a prototype perpetual flight plane.
Now the first prototype model of the Solar Impulse plane, the HB-SIA demonstrator, is on a piloted cross-country flight from Mountain View, Calif.'s Moffett Field to New York's John F. Kennedy Airport. This flight is a prelude to a round-the-world flight planned for 2015 by its successor, the HB-SIB.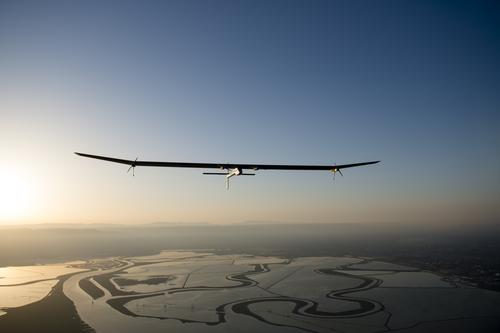 Solar Impulse, a project of the Swiss Federal Institute of Technology, Lausanne, is the first fixed-wing aircraft that can fly continuously, 24 hours a day, without fuel. The HB-SIA has a 208ft (63.4m) wingspan and weighs 3,527.4lb (1,600kg). The carbon fiber honeycomb sandwich structure and the use of several materials designed by Bayer MaterialScience and Solvay make it light enough to stay aloft. During the day, power is provided by 11,628 monocrystalline solar cells in the wings. These cells deliver energy to four 10hp electric motors. At night, the plane runs on its 220wh/kg lithium-polymer batteries, which the solar cells recharge during the day.
Solar Impulse is making the US flight in five legs: Moffett Field to Phoenix, Phoenix to Dallas/Fort Worth, Dallas/FortWorth to St. Louis, St. Louis to Washington, DC, and Washington, DC to New York. The first three legs are already completed. The fourth will begin in mid-June, and the final leg will end in early July. You can watch a video of the plane's history here.
The project began in 2003, and the HB-SIA took its first test flights in 2009. Last year, the solar aircraft completed test flights in Europe and North Africa. In 2011, construction began on the slightly larger HB-SIB. That aircraft is expected to be completed this year and will conduct test flights next year before its round-the-world voyage. The total in-air time for that flight is expected to be 20 days, about a quarter of which will be needed to cross the Pacific Ocean. (Crossing the Atlantic will take about half as long.) Breaks to relieve the pilot will make the total journey last three to four months.
Both planes are heavy users of materials from Bayer MaterialScience, an official project sponsor since 2010. Bayer's materials in the HB-SIA include high-performance, polyurethane rigid foams in the cabin, motor gondolas, and wing tips. Bernd Rothe, Bayer's Solar Impulse project leader, told us in an email that the materials are based on the company's Desmodur 44V70 and Baymer VPPU27HB92. "The cockpit and structural components feature highly developed materials from Bayer, including polyurethane foams in the cockpit cladding, motor cowling, and wings."