Researchers at the University of California, San Diego are designing a robotic arm that takes inspiration from the loose, flexible, yet very strong structure of the armored plates on a seahorse's tail. The robot arm will be constructed with polymer muscles that can flex and grasp objects of different shapes and sizes for underwater exploration, detecting and detonating bombs, and as a part of medical devices.
Led by materials science professors Joanna McKittrick and Marc Meyers of the university's Jacobs School of Engineering, the research team described their findings in an article in the journal Acta Biomaterialia (purchase or subscription only).
Seahorses use their prehensile tails to hide from predators by grasping and holding onto seaweed and coral. Although most of the seahorse's predators capture them by crushing them, the animal's prehensile tail can be compressed to about half of its original width before it is completely crushed and damaged beyond repair. The team discovered this by compressing segments from seahorses' tails at different angles.
Click on the photo below to view an image gallery.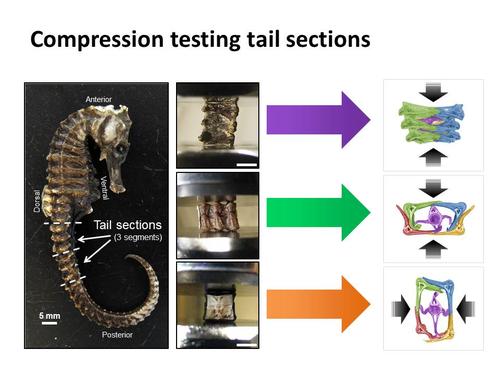 Each of the tail's 36 almost-square, ring-like segments consist of four L-shaped plates, connected by gliding joints that enable the plates to slide past each other. The pivoting joints, which act like mammals' ball-and-socket joints, connect the animal's vertebrae to each other. The tail plates are attached to the vertebrae by thick layers of extremely flexible collagen.
The researchers conducted chemical tests to determine the highly deformable plate material's properties and structure. They discovered that the material's hardness varies, with plate ridges being 40 percent harder than their grooves, which absorb the energy from impacts. Plate material consists of 40 percent minerals, 33 percent water, and 27 percent organic compounds, primarily proteins.
In the video below, materials science graduate student Michael Porter demonstrates with a model how a seahorse's tail plates are constructed and how they work. Porter is a member of the team and lead author of the article.
"We studied the prehensile tail because of its gripping and grasping ability, and it's protected by the natural armor," he explains in the video. "What's unique about this [structure] is that the bony plates have these sliding mechanisms, where they are able to slide in and out of each other, as all the segments are connected." This structure, and its flexibility, protects the vertebrae from being compressed, as well as giving the tail its ability to twist and bend, and its prehensile ability.
Previously, McKittrick and Meyers had looked at the armor design of several other species, including the scales of different fish, and the armored plates of alligators and armadillos. For the robotic arm project, they were especially interested in finding an animal with armor that was flexible enough for the robot arm. "No one's really looked at the tail and the bones [of a seahorse] in particular as a source of armor," says Porter.
Other robots we've told you about are being built not only with inspiration from nature, but with characteristics that some would say make them androids: living tissue, such as engineered muscles, combined with mechanical and electronic components. For example, the pumping action of cultured rat heart muscle cells propel the silicone muscle structure of the Medusoid robotic jellyfish through water. The Cyberplasm robot goes even further by incorporating engineered cellular devices, electronics, and new methods of communicating between biological and electronic components. Its synthetic muscles, derived from mouse cells, mimic the snake-like movements of the sea lamprey.
Related posts: