Two extreme athletes are skiing across the Arctic on an expedition to the far north of the Norwegian island of Spitsbergen, depending for survival on their wits and two custom-designed sleds that incorporate carbon composites and ultra-high molecular weight linear polyethylene (PE). Eric Folz, an engineer at Ticona, and Mike Fuchs, a full-time photographer, will spend about 23 days on the ski tour, dubbed "Mission Icefox," that will cover 560 km (348 miles).
The sled design, called a Pulka, is made by Acapulka, a Norwegian company that creates expedition equipment for journeys to the Arctic, Antarctic, and Greenland. These expeditions are often conducted by extreme athletes like Fuchs and Folz.
The composites and PE are products of Ticona. The Pulka's shell is formed from unidirectional Celstran CFR-TP (continuous fiber reinforced thermoplastics) in the form of tapes using carbon fibers, according to an email from a company spokesman. Celstran CFR-TP composites are used in commercial and military aircraft, military vehicles, commercial and consumer vehicles, and ships. This product line can also be made with aramid and glass fibers, and combines extremely low weight with high resilience.
Click on the image below to see scenes from the expedition.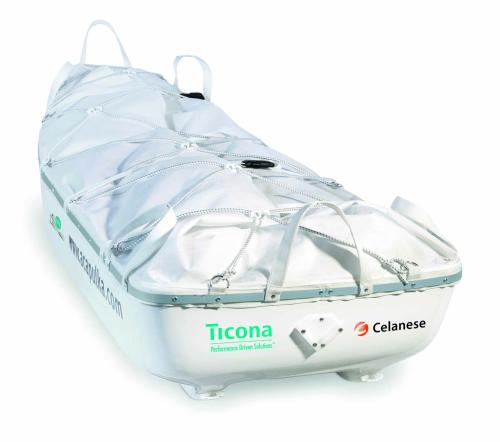 An ultra-high molecular weight PE, Ticona's GUR, forms the sled's runners. The grade used for the runners, GUR-4150, is highly resistant to abrasion and impact and has a very low coefficient of friction, 0.1 to 0.2, Ticona's technical marketing engineer, Tony Verrocchi, told Design News. This gives it excellent glide characteristics. GUR is typically used in snowmobiles, like the front skis, wheels, and driveshafts, "because nothing sticks to it," Verrocchi told us. GUR is also an aligning material in dump trucks and used in orthopedic implants.
Each sled measures 170 cm x 63 cm (67 x 25 inches), weighs 5.2 kg (11.46 lb.) unpacked, and is carrying a load of 65 kg (143 lb.). It's designed to make hauling all the necessary equipment, including a satellite phone and a solar-powered battery charger, as easy as possible. Both team members worked closely with Acapulka and composites fabricator Stükerjürgen to design the Pulka they're using in this expedition. The sled was also tested extensively, including tip and track stability and glide characteristics by pulling it manually. It was also pulled by a kite for high-speed testing of tensile loading and fatigue on loading. Horizontal and vertical impact tests were used to determine impact and notched impact strength.
The choice of composites for Arctic conditions didn't surprise me. After all, carbon composites are on the Juno spacecraft headed for Jupiter. But I didn't expect that a PE could withstand Arctic conditions. GUR-4150 may be used for snowmobiles, but most of those don't have to operate in such extreme environments. Verrocchi explained that this material has about 30 times the molecular weight of standard PE, at 9.2 million grams per mole vs 200,000 to 500,000 grams per mole, respectively. "Ultra-high molecular weight has good cryogenic properties, maintaining its physical properties all the way down to 200 below zero," he said. "The higher the molecular weight, the better the wear resistance." The material also has an exceptionally high notched impact strength of 140 to 210 kiloJoules per square meter.
Mission Icefox began on March 27 at Longyearbyen, about midpoint on Spitsbergen, and will go all the way to the northern tip of the island at Verlegenhuken. The team will then turn around and come back, arriving at Longyearbyen again around April 22. Depending on the weather and ground conditions, Fuchs and Folz expect to cover 7 to 45 km (4 to 28 miles) each day. Temperatures will be extreme, as low as -45C (-49F). Both members have trained hard physically, and Fuchs has previous experience in travel in the far North. Fuchs and Folz are posting their experiences and photos on a blog.
Related posts: