Using electrical signals alone to transfer data has become too slow for the high-speed transfers becoming routine in datacenters and supercomputers. In datacenters, 10Gbit/s is now common in high-end servers and routers. Although fiber optics has replaced copper wires for communications connections outside the system, the time has come to move those speed advantages inside to board and chip data interconnects.
The search for materials that can meet the myriad challenges of board-to-board and chip-to-chip optical interconnects has been ongoing for several years. A new optical silicone-based material developed by Dow Corning and IBM promises to overcome most of those challenges to enable flexible, stable, and easily processable board-level polymer waveguides. The two companies debuted the material earlier this month in a presentation at the Photonics West 2013 conference in San Francisco.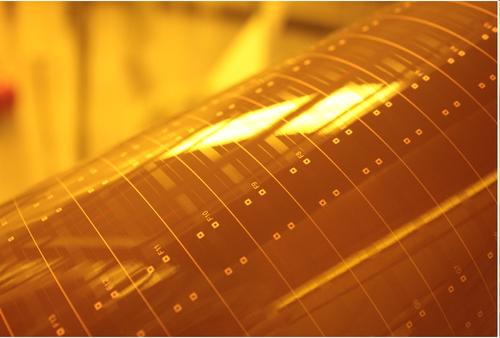 "As you continue to scale silicon by adding more transistors per given area, clock rates aren't going up accordingly," Simon Jones, business builder for Dow Corning Electronics, told Design News. "As we try to increase the rate of data moving down copper wires, the power needed and the cost go up exponentially. Chip-to-chip and chip-to-board interconnects are becoming the rate-limiting issue."
The point at which optical fiber becomes more efficient than copper is occurring in shorter and shorter links. Although there's been limited adoption of optical fiber-based connections at the board level, optical fiber is not scalable like transistors. So the volume of fiber that would be needed for increasing links between chips is too high, Jones told us. Optical links must be integrated into the board in the form of a waveguide.
So far, waveguide materials investigated have included glass, silicon, and various types of polymers. Materials must have the right performance characteristics, including mechanical and optical properties such as low loss and mechanical flexibility, while also being durable and stable enough to withstand high operating heat and humidity. To keep it cost-effective, the material must also be compatible with standard PC board processing equipment, and have a short processing time. Dow Corning has been conducting research into polymer waveguide silicones for the last 10 years.
"The advantage of polymer is its processability, and the fact that you can use it in existing factories," said Jones. "We're doing our best to make this silicone material a drop-in replacement, to enable its adoption in a scalable industrial process." Silicones can be processed faster than glass, and don't need a controlled atmosphere chamber. Other silicones developed for optical waveguides have longer curing times, or are difficult to process. The Dow/IBM material has been successfully processed using both deposition and photopatterning methods, and waveguides have been built in under 45 minutes.