Three-dimensional printing is being used to make metal parts for aircraft and space vehicles, as well as industrial uses. Now NASA is building engine parts with this technique for its next-generation heavy-lift rocket.
The agency says that its Space Launch System (SLS) will deliver new abilities for science and human exploration outside Earth's orbit by carrying the Orion Multi-Purpose Crew vehicle, plus cargo, equipment, and instruments for science experiments. It will also supply backup transportation to the International Space Station, and it will even go to Mars.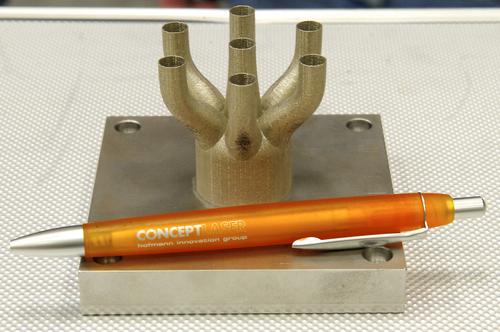 NASA's Marshall Space Flight Center is using a selective laser melting (SLM) process to produce intricate metal parts for the SLS rocket engines with powdered metals and the M2 Cusing machine, built by Concept Laser of Germany. NASA expects to save millions in manufacturing costs and reduce manufacturing time. SLM, a version of selective laser sintering, is known for its ability to create metal parts with complex geometries and precise mechanical properties.
The SLS will weigh 5.5 million pounds, stand 321 feet tall, and provide 8.4 million pounds of thrust at liftoff. Its propulsion system will include liquid hydrogen and liquid oxygen. Its mission will launch Orion without a crew in 2017; the second will launch Orion with up to four astronauts in 2021. NASA's goal is to use SLM to manufacture parts that will be used on the first mission.
The rocket's development and operations costs will be reduced using tooling and manufacturing technology from programs such as the space shuttle. For example, the J-2X engine, an advanced version of J-2 Saturn engines, will be used as the SLS upper stage engine. Some SLM-produced engine parts will be structurally tested this year and used in J-2X hot-fire tests.
In a NASA video, Andy Hardin, engine integration hardware lead for the Marshall Space Flight Center SLS engines office, discusses the initial testing and building stages:
We do a lot of engineering builds first to make sure we have the process [worked] out. There's always weld problems that you have to deal with, and there's going to be problems with this that we will have to work out, too. But this has the potential to eliminate a lot of those problems, and it will have the potential to reduce the cost by as much as half in some cases on a lot of parts.
Since final parts won't be welded, they are structurally stronger and more reliable, which also makes for a safer vehicle.
Ken Cooper, advanced manufacturing team lead at the Marshall Space Flight Center, says in the video that the technique is especially useful for making very complex shapes that can't be built in other ways, or for simplifying the building of complex shapes. But geometry is not the deciding factor; whether the machine can do it or not is decided by the size of the part.
Related posts: