We've told you how carbon nanotubes are being used for some amazing things, like the basis of a wearable energy-harvesting fabric, and reinforcing carbon fiber composite to make it seaworthy for duty as a boat construction material. Now, in a major first, researchers at Stanford University have built a prototype of an all-carbon solar cell, including carbon nanotubes.
Why carbon? Because it's a lot cheaper than silicon, and it's also abundant and highly conductive.
Carbon has the potential to produce high performance for its low cost, said Stanford Professor of Chemical Engineering, and the study's senior author, Zhenan Bao, in a university news article. "Carbon nanotubes have extraordinary electrical conductivity and light-absorption properties."
The study builds on previous work done in her research group's lab. The results were published in an article in ACS Nano (subscription or purchase only).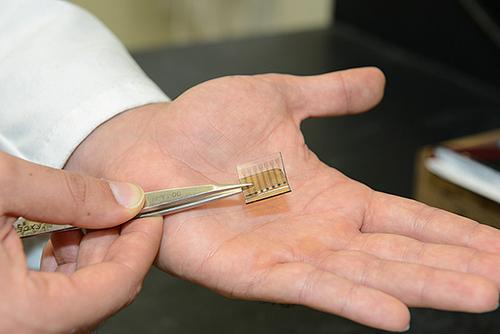 The prototype is a flexible, thin-film solar cell made of carbon that is coated from solution. In most thin-film solar cells, the electrodes are made of conductive metals, such as silver and indium tin oxide. But as demand for indium rises, it's becoming scarce and more expensive, compared to carbon.
The new carbon-based cell consists of a photoactive layer made of carbon nanotubes and 1-nm-wide carbon buckyballs, sandwiched between two electrodes. The electrodes are made of single-walled carbon nanotubes and graphene.
The technique used for coating the cell can further reduce manufacturing costs, since compared to processing silicon, the team's coating methods reduce process steps and don't require expensive tools and manufacturing equipment, said Stanford graduate student Michael Vosgueritchian, co-lead author of the study. Potential applications could be coating windows, cars, or the surfaces of buildings to capture solar energy and generate electricity.
Because carbon withstands extreme environments much better than silicon, these cells might also be used in high temperature, high stress applications where silicon can't function.
"To the best of our knowledge, this is the first demonstration of a working solar cell that has all of the components made of carbon," said Bao. Although other researchers have reported the production of an all-carbon solar cell, those prototypes' carbon included only the inside photoactive layer, and not the electrodes.
Although carbon is plentiful and highly conductive, it's not known for being a good semiconductor, and is therefore very inefficient, since it absorbs near-infrared (NIR) light wavelengths. However, single-walled carbon nanotubes have superior electrical and mechanical properties, and many of them are semiconducting. They can also be easily dispersed in organic solvents or water, making them compatible with high-volume, low-cost coating processes such as large area roll-to-roll.
The research team is examining different methods for improving efficiency. One way is to improve the smoothness of each layer by improving layer-stacking methods, so they can collect more current. Other carbon nanomaterials that absorb more light across a wider spectrum are also being considered.
Other members of the research team included co-lead author of the study, postdoctoral Stanford researcher Marc Ramuz; postdoctoral Stanford researcher Peng Wei; and Chenggong Wang and Yongli Gao of the University of Rochester's Department of Physics and Astronomy.
Related posts: