There's more than one way to become energy independent and go off the grid. In the first week of November, residents of a three-island Pacific nation were slated to switch over to a system that produces electricity from solar power and biofuel derived from coconuts.
Tokelau, a place north of Samoa administered as a region of New Zealand, is expected to generate more than 100 percent of its electricity needs from sustainable sources. Its 1,411 citizens reside in the Atafu, Nukunonu, and Fakaofo atolls, which cover more than 10 square kilometers combined. The government of Tokelau decided in 2004 to increase energy efficiency and independence by focusing on renewable sources, in part to defray the high costs of importing diesel for generators.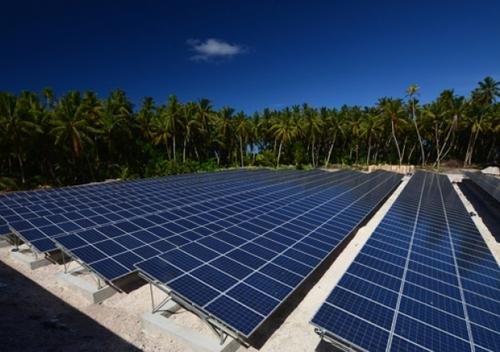 The Tokelau Renewable Energy Project, funded by New Zealand Aid, consists of three separate electrical systems (one for each island), each with its own battery storage. Each island's system is one of the world's largest off-grid solar systems, according to a blog post by PowerSmart, the New Zealand company serving as the project's lead contractor. In the past few months, the project has installed 4,032 photovoltaic panels and 1,344 batteries on the three atolls. Locally produced coconut-based biofuel will power generators that will handle overflow demand and recharge battery banks. The systems were designed to withstand high temperatures, salt-laden air, and the risks of flooding and cyclones.
Biofuels have been in the news a lot recently. In nearby Vanuatu, purified coconut oil is being used to fuel automobiles and minubuses. A Canadian jet recently became the first civilian plane to fly on 100 percent nonfood biofuel. Transesterification can convert coconut oil into a biodiesel compatible with diesel engines, though this is an expensive process and requires materials not readily available in the Pacific. During World War II, coconut oil was used in the Philippines as a substitute for diesel.
Though the European Commission has called for even stricter limits on the use of food crops for producing transportation biofuels, a feasibility report for Tokelau's solar/biofuel system called coconuts an underused local resource. The report concluded that this use of coconuts (which are abundant on the islands) would not hurt the environment, since the biodiesel would cover only 10 percent of the system's total energy needs.
The renewable energy system's original specification called for the solar panels to supply 90 percent of the islands' electricity. But a combination of sheer volume and engineering innovation means the system will provide 150 percent of the islands' current electricity needs, according to PowerSmart. The headroom will allow the islanders to expand their use of electricity without using expensive diesel fuel.
Each island had been using about 200 gallons of diesel a day to generate electricity. This was not only expensive but also challenging, because of the environmental risks involved in unloading diesel drums on tropical islands.
"The Pacific has a massive problem in importing its fossil fuel requirements, largely for power generation and transportation," Anirudh Singh, associate professor of physics at the University of the South Pacific in Fiji, said in an Inter Press Service article on the new system. "This is due to its isolated and scattered small populations. And replacing these fuels is the top priority as the import bills are exorbitant."
The combined solar/biofuel system will go a long way toward fulfilling that goal, as well as decreasing environmental impacts.
Related posts: