The one joining technology ABB sees as growing and becoming more accepted by automotive OEMs is gluing or chemical bonding, Nidamarthi said. "Suppliers are coming up with new glues that can bond different materials. Dow Chemical's research is showing that such gluing can help achieve both lighter car weight and higher structural stiffness."
For example, Dow Automotive Systems' BETAFORCE two-component polyurethane adhesives are particularly well suited for bonding carbon fiber composites to other composites or to metals such as aluminum. These products have prolonged work times, adhere quickly, and require little surface preparation.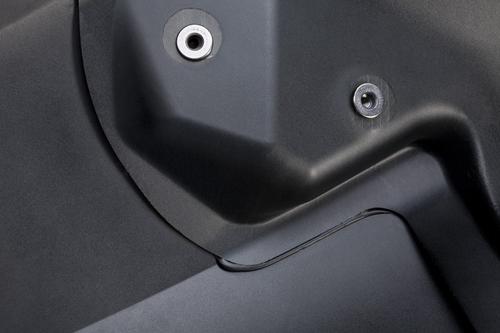 However, applying glue quickly and accurately is a challenge, especially when it is incorporated into an automated process. "In mass production, you need accurate and fast methods for applying glue, like dispensing a continuous ribbon or a bead versus applying it in spots," said Nidamarthi. The correct timing of mixing and application is important, and the temperature of heated glue must be carefully managed.
It is thus extremely important for the robots that apply the glue and their controllers to be accurate. To coordinate the speed of the robot and the speed and accuracy of glue dispensing, ABB is integrating dispensing controllers into a robot controller. The system simultaneously manages mixing, temperature, dispensing flow or glue volumes, and robot speeds so that the correct amount of glue is dispensed quickly in the right place. ABB has customers using this integrated dispensing system in automotive applications, and aerospace customers are conducting pilot research, Nidamarthi said.
Related posts:



More Blogs from Engineering Materials

6
Inspired by the hooks a parasitic worm uses to penetrate its host's intestines, the Karp Lab has invented a flexible adhesive patch covered with microneedles that adheres well to wet, soft tissues, but doesn't cause damage when removed.

3
Engineers at the University of California, San Diego are designing a robotic arm that takes inspiration from the loose, flexible, yet very strong structure of the armored plates on a seahorse's tail.

17
Researchers at the Missouri University of Science & Technology have designed a new nanoscale material that can transmit light faster than the 186,000 miles per second it usually takes to travel through air.

44
It has often been said that as California goes, so goes the nation. This spring, the state's wind power is setting energy generation records and solar energy generation is expected to rise sharply during the second half of 2013.

21
The latest model of Liquid Robotics' Wave Glider autonomous, unmanned marine vehicle (UMV), the SV3, is reportedly the world's first hybrid wave- and solar-power-propelled unmanned ocean robot.


A quick look into the merger of two powerhouse 3D printing OEMs and the new leader in rapid prototyping solutions, Stratasys. The industrial revolution is now led by 3D printing and engineers are given the opportunity to fully maximize their design capabilities, reduce their time-to-market and functionally test prototypes cheaper, faster and easier. Bruce Bradshaw, Director of Marketing in North America, will explore the large product offering and variety of materials that will help CAD designers articulate their product design with actual, physical prototypes. This broadcast will dive deep into technical information including application specific stories from real world customers and their experiences with 3D printing. 3D Printing is




Datasheets.com Parts Search
185 million searchable parts
(please enter a part number or hit search to begin)