A new kind of solar cell could give windows the ability to generate electricity. The polymer solar cells (PSCs), developed by researchers at the University of California, Los Angeles (UCLA) absorb mostly infrared, not visible, light, making them almost 70 percent transparent to the human eye.
The cells are made from a photoactive plastic that converts infrared light into an electrical current, according to an article in ACS Nano that describes the research. Applications could include high-performance, visibly transparent photovoltaic (PV) devices, such as building-integrated PV and integrated PV chargers for portable electronics, said study leader Yang Yang, UCLA professor of materials science and engineering, and director of the Nano Renewable Energy Center at California NanoSystems Institute (CNSI).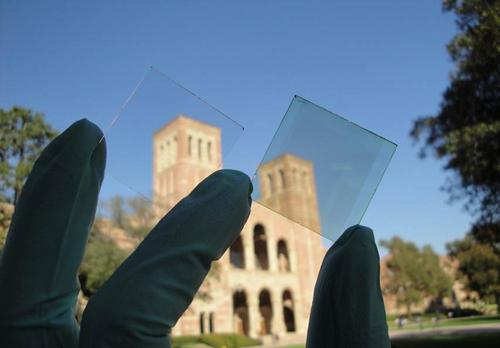 PSCs aren't entirely new, but truly transparent ones are. Previous attempts to make PSCs that are partially or completely transparent to the naked eye have either resulted in devices that are transparent to visible light but not very efficient, or efficient devices that aren't really transparent. The researchers say that this is mostly because the devices were not fabricated with the best combination of polymeric PV materials and efficient transparent conductors. For example, opaque metal electrodes have typically been used.
The UCLA PSCs are lightweight, flexible, and have a maximum transparency of 66 percent at 550nm. They incorporate near-infrared (NIR) photoactive polymer and use a highly transparent silver nanowire-metal oxide composite conducting film as the top transparent electrode. The NIR light-sensitive photoactive polymer balances transparency at visible wavelengths by harvesting solar energy from NIR wavelengths while being less sensitive to visible photons.
The transparent conductor is a major breakthrough, the researchers say. It's made of a mixture of silver nanowire and titanium dioxide nanoparticles. This composite electrode makes it possible for the PSCs to be fabricated in high volume at low cost, via mild solution processes. The transparent PSCs have a power-conversion efficiency of 4 percent.
Other authors of the study are CNSI director Paul S. Weiss; CNSI postdoctoral researcher Yue Bing Zheng; materials science and engineering postdoctoral researcher Rui Zhu; doctoral candidates Chun-Chao Chen, Letian Dou, Choong-Heui Chung, Tze-Bin Song, and Steve Hawks; and Gang Li, former vice president of engineering for Solarmer Energy Inc. The study received funding supported from the Henry Samueli School of Engineering and Applied Science, the Office of Naval Research, and The Kavli Foundation.
Related posts: