We've told you about how carbon fiber composites are lending their strength and toughness to cars and commercial aircraft, delivery trucks, interplanetary satellites, and private amphibious planes. Now, Zyvex Marine says it has built the first manned boat made of nanomaterials.
The LRV-17 Long Range Vessel is made primarily of carbon fiber-reinforced composites and reinforced with carbon nanotubes. It uses the Arovex carbon fiber nanocomposite system, which is designed to reduce weight and increase fuel efficiency and range. The boat's range is more than 1,500 nautical miles -- more than three times that of similar-sized vessels -- and it reaches sprint speeds of more than 40 knots.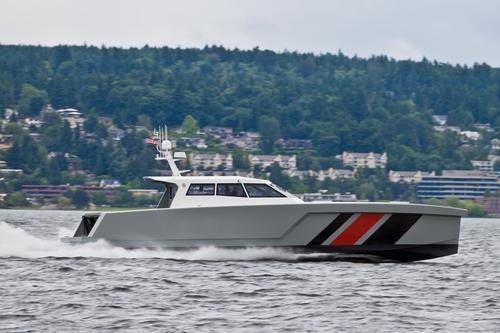 Zyvex Marine debuted a prototype of the boat's predecessor, the Piranha Unmanned Surface Vessel, in 2010 and shipped the first one in 2011. The Piranha is also based on Arovex nanocarbon material from the company's parent, Zyvex Technologies. Arovex is the first such material made commercially available.
The new boat's deep V-shaped hull uses an active gyroscope stabilizer to decrease human fatigue factors and improve handling at sea, Zyvex said. Only two operators are needed, but the vessel can accommodate up to four additional crew members for more than five days. It is 57 feet long, carries 1,700 gallons of fuel, and has an 11.9-foot beam and a 2.33-foot draft.
Global Maritime Security Solutions (GMSS) of Dubai will deploy the boats for various maritime security purposes off the coast of Africa and elsewhere. One of the primary uses will be to protect other vessels against piracy. GMSS expects to use security teams, each operating two LRV-17s, to protect ships in its new Merchant Vessel Convoy Escort Program.
"The new LRV-17 boats are game changers in maritime security missions because they are the only vessels capable of long range escort and high speeds to deal with multiple pirate threats," Rhynhardt Berrange, managing director of GMSS, said in a press release. "They need only small security teams to effectively operate. These attributes create a cost-effective platform to ensure maritime security. The visible presence of the new vessels is expected to deter and help prevent piracy attempts and attacks."
Zyvex Marine is developing utility, patrol, and unmanned versions of the LRV-17 boat platform. The company has also introduced doors, hatches, and other marine closures made of Arovex. In partnership with Pacific Coast Marine, the company introduced a door that it says weighs less (50 pounds, instead of 150) and is more durable than one made of traditional materials.
Arovex is made with Zyvex Technologies' Kentera dispersion technology, which creates chemical bonds on carbon nanotubes. Incorporating carbon nanomaterials into the resin systems used to make the material helps protect it from fracture damage, making it tougher without adding weight, the company says. The material is used in sporting goods, automotive, marine, aerospace, and defense applications.
Related posts: