We've covered several attempts to adapt additive manufacturing techniques to low-volume aerospace and automotive manufacturing, as well as ongoing work in producing carbon composite materials and processes better suited to commercial aircraft. Now Stratasys wants to bring both together to speed up the production of composite components.
A joint development initiative between Stratasys and the US Department of Energy (DOE) at Oak Ridge National Laboratory aims to develop Stratasys's fused deposition modeling (FDM) process for making production volumes of carbon fiber composite components entirely out of autoclave. The collaboration has two goals: the development of carbon fiber reinforced FDM feedstocks and the creation of in-process inspection methods to assure part quality.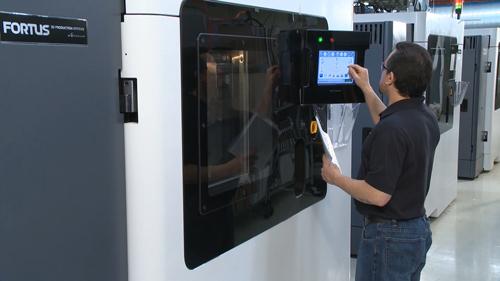 The DOE wants to reduce US industrial energy usage and revitalize manufacturing competitiveness. Additive manufacturing can help accomplish both, since the processes produce less material waste and don't require investments in tooling.
Researchers trying to achieve production FDM face several challenges, Jeff DeGrange, vice president of direct digital manufacturing for Stratasys, told us. "The machines have to be faster and more reliable. For manufacturing applications, you need additional closed-loop controls to ensure quality products, in terms of repeatedly meeting the same dimensional and mechanical requirements. And instead of performing external tests after a product comes out of the machine, it's better to do them inside via in situ controls."
Stratasys had begun pursing some of these materials and process improvement goals on its own, said DeGrange. But producing new composite materials and in-process inspection methods under the Oak Ridge agreement will require certain intellectual property agreements. The three-year program has major milestones to be met at one year, one-and-a-half years, two years, and three years.