Engineers at the University of Exeter have devised a new method for making aircraft and automotive components for short money using additive manufacturing techniques (a frequent topic on our site) and aluminum powders.
Three-dimensional aluminum metal matrix composite components are made by mixing a combination of relatively inexpensive powders to cause a reaction and rapid solidification. This productes particles as small as 50nm to 100nm that are distributed uniformly throughout the composite and strengthen it. A reactive reinforcing material, such as iron oxide, also contributes to the composite's strength.
Liang Hao, a lecturer at the University of Exeter's College of Engineering, Mathematics, and Physical Sciences, and Sasan Dadbakhsh, a doctoral candidate there, developed the technique in the university's Centre for Additive Layer Manufacturing. They say the material and the manufacturing method can produce lightweight parts such as pistons, drive shafts, suspension components, and brake discs for cars and airplanes.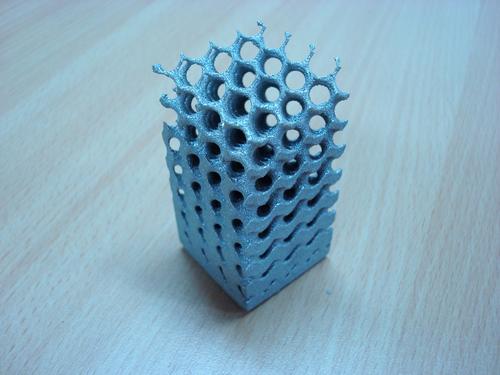 The process can also produce parts with more complex geometries that can reduce structural weight. Such parts can be difficult or expensive to manufacture with traditional methods such as casting and mechanical alloying, rather than the laser sintering method made possible by mixing metal powders.
The researchers have dubbed the new additive manufacturing method selective laser melting. They say the laser technique for melting the powder mix is cheaper and more sustainable than other methods that form composites by blending fine powders directly. Making parts with laser-sintered powders can help save materials, energy, and cost when producing products in small volumes, including single copies, the researchers say.
The team has published its findings in the Journal of Alloys and Compounds. An article published this year in Advanced Engineering Materials detailing much of the findings is available here.
Related posts: