Objet Ltd. has released 39 new digital materials for use with its Connex 3D multi-material printing systems. The materials are tougher than their predecessors. They also offer a wider range of shore scale values and are resistant to high temperatures.
Bruce Bradshaw, Objet's US marketing director, told us that the high-end Connex 3D printers print multiple digital materials, each a custom blend of two out of 17 possible base materials.
High-temperature materials are sometimes brittle, and strong materials are not always heat-resistant. Before, when you made a 3D-printed prototype, you had to make a tradeoff between strength and temperature resistance. With digital materials, you can take the best characteristics of each and combine them digitally, for example, to get a high-temperature-resistant material that's also strong.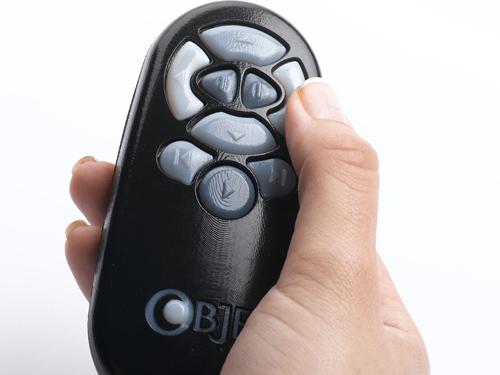 Engineers now can include up to 14 digital materials with different properties -- rigidity, flexibility, opaqueness, transparency, ABS-like qualities, different color shades, and high-temperature resistance -- in the same model. This makes it possible to simulate very precise material properties that most realistically match the prototyping stage to the end product. (A video on the next page shows a classic car model printed with multi-material 3D printing technology.)
Blending materials on the fly lets the Connex system put certain combinations in specific areas of the model to get different values of a given material property, such as different shore values for a range of softness and flexibility. Engineers select the values they want, including shore values and tensile and tear strength. This could produce a rigid steering wheel with a soft cover.



More Blogs from Engineering Materials

1
A new service lets engineers and orthopedic surgeons design and 3D print highly accurate, patient-specific, orthopedic medical implants made of metal -- without owning a 3D printer. Using free, downloadable software, users can import ASCII and binary .STL files, design the implant, and send an encrypted design file to a third-party manufacturer.

39
A recent report sponsored by the American Chemistry Council (ACC) focuses on emerging gasification technologies for converting waste into energy and fuel on a large scale and saving it from the landfill. Some of that waste includes non-recycled plastic.

13
Capping a 30-year quest, GE Aviation has broken ground on the first high-volume factory for producing commercial jet engine components from ceramic matrix composites. The plant will produce high-pressure turbine shrouds for the LEAP Turbofan engine.

15
Seismic shifts in 3D printing materials include an optimization method that reduces the material needed to print an object by 85 percent, research designed to create new, stronger materials, and a new ASTM standard for their mechanical properties.

15
A recent study finds that 3D printing is both cheaper and greener than traditional factory-based mass manufacturing and distribution. At least, it's true for making consumer plastic products on open-source, low-cost RepRap printers.


LATEST ARCHIVED BROADCAST
For industrial control applications, or even a simple assembly line, that machine can go almost 24/7 without a break. But what happens when the task is a little more complex? That's where the "smart" machine would come in. The smart machine is one that has some simple (or complex in some cases) processing capability to be able to adapt to changing conditions. Such machines are suited for a host of applications, including automotive, aerospace, defense, medical, computers and electronics, telecommunications, consumer goods, and so on. This discussion will examine what's possible with smart machines, and what tradeoffs need to be made to implement such a solution.



Datasheets.com Parts Search
185 million searchable parts
(please enter a part number or hit search to begin)