Objet Ltd. has released 39 new digital materials for use with its Connex 3D multi-material printing systems. The materials are tougher than their predecessors. They also offer a wider range of shore scale values and are resistant to high temperatures.
Bruce Bradshaw, Objet's US marketing director, told us that the high-end Connex 3D printers print multiple digital materials, each a custom blend of two out of 17 possible base materials.
High-temperature materials are sometimes brittle, and strong materials are not always heat-resistant. Before, when you made a 3D-printed prototype, you had to make a tradeoff between strength and temperature resistance. With digital materials, you can take the best characteristics of each and combine them digitally, for example, to get a high-temperature-resistant material that's also strong.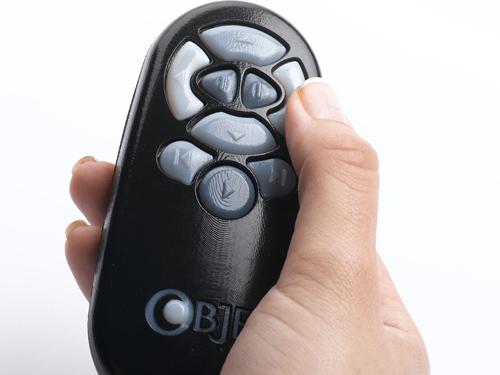 Engineers now can include up to 14 digital materials with different properties -- rigidity, flexibility, opaqueness, transparency, ABS-like qualities, different color shades, and high-temperature resistance -- in the same model. This makes it possible to simulate very precise material properties that most realistically match the prototyping stage to the end product. (A video on the next page shows a classic car model printed with multi-material 3D printing technology.)
Blending materials on the fly lets the Connex system put certain combinations in specific areas of the model to get different values of a given material property, such as different shore values for a range of softness and flexibility. Engineers select the values they want, including shore values and tensile and tear strength. This could produce a rigid steering wheel with a soft cover.



More Blogs from Engineering Materials

4
Carbon fiber composites are being used in a satellite fuel tank designed to burn up on re-entry.

10
Inspired by the hooks a parasitic worm uses to penetrate its host's intestines, the Karp Lab has invented a flexible adhesive patch covered with microneedles that adheres well to wet, soft tissues, but doesn't cause damage when removed.

3
Engineers at the University of California, San Diego are designing a robotic arm that takes inspiration from the loose, flexible, yet very strong structure of the armored plates on a seahorse's tail.

20
Researchers at the Missouri University of Science & Technology have designed a new nanoscale material that can transmit light faster than the 186,000 miles per second it usually takes to travel through air.

56
It has often been said that as California goes, so goes the nation. This spring, the state's wind power is setting energy generation records and solar energy generation is expected to rise sharply during the second half of 2013.


A quick look into the merger of two powerhouse 3D printing OEMs and the new leader in rapid prototyping solutions, Stratasys. The industrial revolution is now led by 3D printing and engineers are given the opportunity to fully maximize their design capabilities, reduce their time-to-market and functionally test prototypes cheaper, faster and easier. Bruce Bradshaw, Director of Marketing in North America, will explore the large product offering and variety of materials that will help CAD designers articulate their product design with actual, physical prototypes. This broadcast will dive deep into technical information including application specific stories from real world customers and their experiences with 3D printing. 3D Printing is




Datasheets.com Parts Search
185 million searchable parts
(please enter a part number or hit search to begin)