Objet Ltd. has released 39 new digital materials for use with its Connex 3D multi-material printing systems. The materials are tougher than their predecessors. They also offer a wider range of shore scale values and are resistant to high temperatures.
Bruce Bradshaw, Objet's US marketing director, told us that the high-end Connex 3D printers print multiple digital materials, each a custom blend of two out of 17 possible base materials.
High-temperature materials are sometimes brittle, and strong materials are not always heat-resistant. Before, when you made a 3D-printed prototype, you had to make a tradeoff between strength and temperature resistance. With digital materials, you can take the best characteristics of each and combine them digitally, for example, to get a high-temperature-resistant material that's also strong.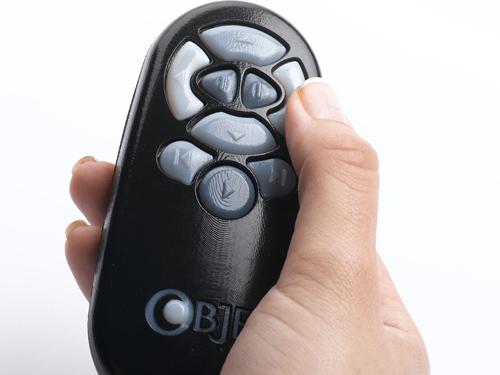 Engineers now can include up to 14 digital materials with different properties -- rigidity, flexibility, opaqueness, transparency, ABS-like qualities, different color shades, and high-temperature resistance -- in the same model. This makes it possible to simulate very precise material properties that most realistically match the prototyping stage to the end product. (A video on the next page shows a classic car model printed with multi-material 3D printing technology.)
Blending materials on the fly lets the Connex system put certain combinations in specific areas of the model to get different values of a given material property, such as different shore values for a range of softness and flexibility. Engineers select the values they want, including shore values and tensile and tear strength. This could produce a rigid steering wheel with a soft cover.



More Blogs from Engineering Materials

1
After a year or so of missteps, false starts, retractions, and postponements, inkjet office printer giant Hewlett-Packard has finally revealed just what it plans to do in 3D printing.

10
The company that brought you 3D-printed eyeglasses has launched both an improved clear polymer material for 3D printing optical components and a high-speed, precision, 3D-printing process for making small- and medium-sized batches in a few days.

9
We've found an amazing variety of robot hands & arms in medicine, space, and service robots, as well as R&D and assembly. Some are based on industrial designs modified for speed or dexterity, while others more closely emulate human movements, as well as human size and shape.

6
To give engineers a better idea of the range of resins and polymers available as alternatives to other materials, this Technology Roundup presents several articles on engineering plastics that can do the job.

18
The first photos made with a 3D-printed telescope are here and they're not as fuzzy as you might expect. A team from the University of Sheffield beat NASA to the goal. The photos of the Moon were made with a reflecting telescope that cost the research team £100 to make (about $161 US).

Focus on Fundamentals consists of 45-minute on-line classes that cover a host of technologies. You learn without leaving the comfort of your desk. All classes are taught by subject-matter experts and all are archived. So if you can't attend live, attend at your convenience.
Last Archived Class