BMW has adopted an aluminum piston developed by Federal-Mogul for use in its M550d xDrive sedan. The piston meets the strength and thermal performance requirements of very high-power diesel engines that have been designed to reduce CO2 emissions and improve fuel economy.
These diesel engines also offer improved dynamic performance, but their power output of more than 90kW/liter is a challenge for the pistons. BMW, reportedly the first automaker to adopt the new piston, will use it for its triple-turbo 3.0-liter diesel engine, the N57D30S1, which is said to be the world's most powerful light diesel engine at a specific power output of 93kW/liter.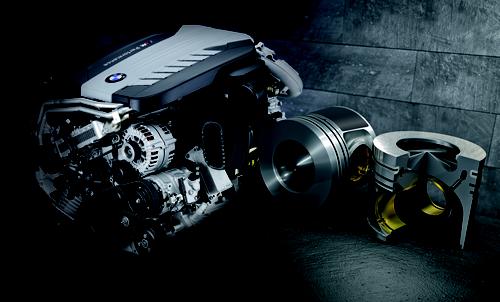 As we've reported before, a new generation of smaller vehicle engines (like the N57D30S1) are being designed to improve fuel economy, reduce emissions, and run much hotter than previous engines. These engines require higher-grade materials.
"By combining all our process and materials expertise, Federal-Mogul has produced an aluminum piston with the durability and the thermal characteristics that high-power diesels require," Gian Maria Olivetti, its vice president of technology and innovation for powertrain energy, said in a press release. "These advances mean that aluminum pistons can retain their leading position in diesel engines for light vehicles for some time to come."
With higher specific power outputs come not only higher temperatures, but also higher mechanical loads, which make a piston's heat dissipation and strength equally important. Federal-Mogul's new aluminum piston can operate efficiently under higher thermal and mechanical loads than previous models. They also come without the risk of problems associated with steel pistons, such as engine oil cracking and carbon deposits.
The piston's design uses the company's Durabowl process, which creates a reinforced combustion bowl rim that can withstand high thermal and mechanical loads. The process remelts the alloy around the bowl's rim to improve the aluminum's fatigue strength. A raised cooling gallery, made possible by Federal-Mogul's two-dimensional ultrasonic inspection process, improves thermal performance.
Federal-Mogul developed the nondestructive, 2D ultrasonic inspection technique to tighten quality control. Typical one-dimensional ultrasonic testing can identify defects but doesn't provide data about their size or position. The 2D ultrasonic process lets engineers determine defect size and position. The data helps develop the casting process.
The piston was developed at a Federal-Mogul facility in Nuremberg, Germany, that produces steel and aluminum pistons for light and heavy-duty diesel engines.
Related posts: