A Pegasus XL air-launched rocket, and the NASA X-ray observatory satellite it has just sent into space, are both made partly from carbon composites. NASA's NuSTAR (Nuclear Spectroscopic Telescope Array) spacecraft is designed to study previously underexplored high-energy hard X-rays. It will help detect the presence of the most elusive and highest-energy black holes in the Milky Way and more distant galaxies.
The Pegasus XL rocket carried the NuSTAR satellite when it launched June 13 from the Ronald Reagan Test Site at Kwajalein Atoll in the Pacific Ocean. The rocket and satellite are both made by Orbital Sciences. This was the 41st mission for any Pegasus rocket and the 31st for a Pegasus XL. The Pegasus family was the first commercial space launch vehicle.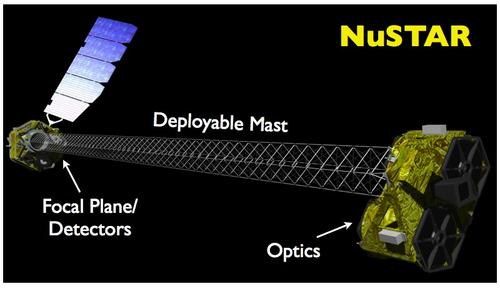 Governments and commercial enterprises use the three-stage Pegasus XL rocket to deploy small satellites that weigh up to 1,000 pounds into low-Earth orbit. As we've previously reported, another low-Earth orbit satellite launcher, the European Space Agency (ESA)'s Vega, recently completed its maiden flight. The Vega's entire shell is made of carbon-fiber composites.
Pegasus XL itself is carried to an altitude of 40,000 feet by the Stargazer L-1011 aircraft, also built by Orbital, before being launched. The rocket then free-falls in a horizontal position for five seconds, when its three-stage rocket motor ignites.
Aerospace composite maker ATK provided many of the rocket's composite structures, including the payload fairing, which jettisons during flight when the second stage engine ignites. The fairing comprises two graphite (carbon) composite shell halves. It protects its payload, the NuSTAR spacecraft, from heat and aerodynamic pressure during Pegasus's ascent to orbit. The payload fairing access door is also made of carbon composite.