A Pegasus XL air-launched rocket, and the NASA X-ray observatory satellite it has just sent into space, are both made partly from carbon composites. NASA's NuSTAR (Nuclear Spectroscopic Telescope Array) spacecraft is designed to study previously underexplored high-energy hard X-rays. It will help detect the presence of the most elusive and highest-energy black holes in the Milky Way and more distant galaxies.
The Pegasus XL rocket carried the NuSTAR satellite when it launched June 13 from the Ronald Reagan Test Site at Kwajalein Atoll in the Pacific Ocean. The rocket and satellite are both made by Orbital Sciences. This was the 41st mission for any Pegasus rocket and the 31st for a Pegasus XL. The Pegasus family was the first commercial space launch vehicle.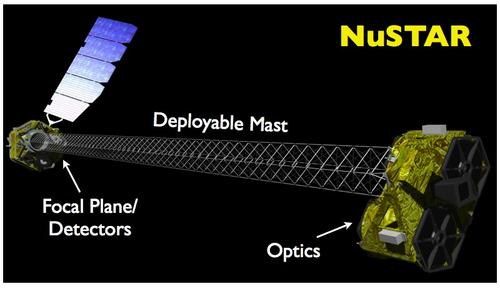 Governments and commercial enterprises use the three-stage Pegasus XL rocket to deploy small satellites that weigh up to 1,000 pounds into low-Earth orbit. As we've previously reported, another low-Earth orbit satellite launcher, the European Space Agency (ESA)'s Vega, recently completed its maiden flight. The Vega's entire shell is made of carbon-fiber composites.
Pegasus XL itself is carried to an altitude of 40,000 feet by the Stargazer L-1011 aircraft, also built by Orbital, before being launched. The rocket then free-falls in a horizontal position for five seconds, when its three-stage rocket motor ignites.
Aerospace composite maker ATK provided many of the rocket's composite structures, including the payload fairing, which jettisons during flight when the second stage engine ignites. The fairing comprises two graphite (carbon) composite shell halves. It protects its payload, the NuSTAR spacecraft, from heat and aerodynamic pressure during Pegasus's ascent to orbit. The payload fairing access door is also made of carbon composite.



More Blogs from Engineering Materials

3
A new service lets engineers and orthopedic surgeons design and 3D print highly accurate, patient-specific, orthopedic medical implants made of metal -- without owning a 3D printer. Using free, downloadable software, users can import ASCII and binary .STL files, design the implant, and send an encrypted design file to a third-party manufacturer.

39
A recent report sponsored by the American Chemistry Council (ACC) focuses on emerging gasification technologies for converting waste into energy and fuel on a large scale and saving it from the landfill. Some of that waste includes non-recycled plastic.

13
Capping a 30-year quest, GE Aviation has broken ground on the first high-volume factory for producing commercial jet engine components from ceramic matrix composites. The plant will produce high-pressure turbine shrouds for the LEAP Turbofan engine.

15
Seismic shifts in 3D printing materials include an optimization method that reduces the material needed to print an object by 85 percent, research designed to create new, stronger materials, and a new ASTM standard for their mechanical properties.

15
A recent study finds that 3D printing is both cheaper and greener than traditional factory-based mass manufacturing and distribution. At least, it's true for making consumer plastic products on open-source, low-cost RepRap printers.


LATEST ARCHIVED BROADCAST
For industrial control applications, or even a simple assembly line, that machine can go almost 24/7 without a break. But what happens when the task is a little more complex? That's where the "smart" machine would come in. The smart machine is one that has some simple (or complex in some cases) processing capability to be able to adapt to changing conditions. Such machines are suited for a host of applications, including automotive, aerospace, defense, medical, computers and electronics, telecommunications, consumer goods, and so on. This discussion will examine what's possible with smart machines, and what tradeoffs need to be made to implement such a solution.



Datasheets.com Parts Search
185 million searchable parts
(please enter a part number or hit search to begin)