Signaling its interest in adding to its portfolio of high-performance protection materials, DuPont has invested in a company that makes one of the composite materials on the Juno spacecraft. Nanocomp Technologies manufactures the carbon nanotube-based sheet material EMSHIELD, which protects the Jupiter-bound craft against ESD.
As we've reported previously, Juno incorporates a different composite material made by SGL Group, which forms an optical bench at the end of one of the craft's solar array wings. The carbon fiber-reinforced ceramic composite bench, mounted on a stable magnetometer boom, holds the magnetometer that will measure Jupiter's magnetic field.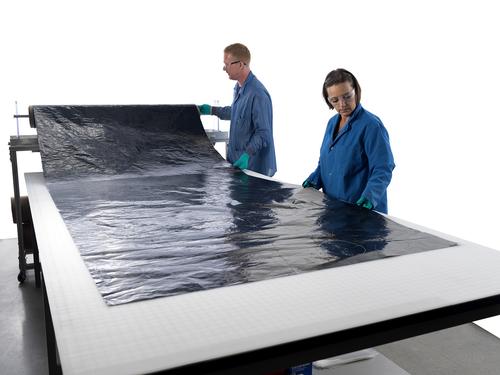 The Nanocomp Technologies CNT material forms a surface layer on some critical components of the flight system's attitude control motor struts and the main engine housing. It's an alternative to the aluminum foil typically used for ESD protection, which is bonded to the surface of composite components. Instead, Nanocomp's sheet material was added in layers during fabrication of the composites it protects, integrating it directly into the spacecraft components' structure.
DuPont purchased a minority share in Nanocomp and agreed to acquire the assets of BAE Systems Tensylon High Performance Materials, a manufacturer of ultra-high molecular weight polyethylene tapes that provide strong and lightweight armor solutions. DuPont expects to combine the new technologies from Tensylon with DuPont Protection Technologies' Kevlar technologies to develop materials that improve the performance, durability, and strength of helmets, body armor, and vehicle armor. The Tensylon technology platform will also enable new materials for ropes and cables for offshore oil and gas platforms.
Nanocomp and DuPont will co-develop products that use Nanocomp's CNT sheet and yarn materials and DuPont Protection Technologies' materials for ballistic, panel, and core structures for military, law enforcement, and industrial applications, such as lightweight, honeycomb-type structures for aerospace. DuPont says its goal is to offer products with superior lightweight strength, combined with properties such as electrical conductivity.
The CNT yarns have been fatigue-tested against copper in bending tests for fracture toughness. The company says its yarns last almost 2.5 million cycles, whereas copper breaks after nearly 14,000 bends.
Nanocomp will use the funding to expand its manufacturing capacity. NASA and the Department of Defense use the company's CNT yarn and sheet materials in advanced components in several programs. Other applications for the electrical, structural, and thermal performance characteristics of Nanocomp's materials range from data transmission cables to armor and honeycomb core structures.
Related posts: