A shrimp that looks like an armored caterpillar has arms with a unique structure that could be adapted to make better body armor for soldiers. The crustacean's club-like arms are extremely strong, tough, and lightweight.
The four-inch-long mantis shrimp has arms that end in bright orange clubs. Those arms accelerate underwater faster than a 22-caliber bullet, say a team of researchers at the University of California, Riverside's Bourns College of Engineering. The shrimp uses repeated blows of its club to destroy the shells of mollusks and the exoskeletons of crabs. Both of these materials have high impact resistance and have been studied extensively for those qualities.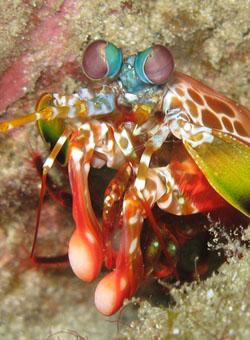 The team, headed by assistant professor David Kisailus, wanted to know what let the club withstand 50,000 high-velocity strikes -- equivalent to 50,000 bullet impacts -- on the shrimp's prey during its lifespan. Its analysis found a highly complex structure formed by three specialized sections. In a way that is reminiscent of the piranha-proof fish scale architecture we've reported on, the club is formed with different specialized regions that work together to make a tougher material than many engineered ceramics.
In the case of the piranha-proof fish scales, it's two sections. With the shrimp club, there are three different regions. The internal layer functions as a shock absorber. In this layer, highly organized and rotated layers of chitin fibers are dispersed in mineral to absorb energy as stress waves pass through the club. On the club's outside is a second layer that impacts its prey. Here is a high concentration of mineral similar to that found in human bone. The third region consists of oriented chitin fibers that encapsulate the club's sides. These keep it intact during high-velocity impacts.
The club is stiff, lightweight, and tough, which makes it capable of both tolerating impacts and resisting shock. "That's the holy grail for materials engineers," said Kisailus in a press release. Because of this combination, materials built with this type of structure would improve on many existing structural materials. The potential applications are widespread, including improving vehicle and aircraft frames.
Since military body armor can add as much as 30lb to a soldier's load, the team is concentrating on applying the structure to this application. Its goal is to develop a material one-third the weight and thickness of existing body armor.
Related posts: