Like engineers in other transportation industries, commercial aircraft designers are racing to create lighter weight, less costly components while maintaining structural integrity. New materials for manufacturing structural and non-structural components are being developed for interior and exterior applications. These include lighter, stronger, and faster-curing carbon fiber and glass composites, and lighter weight metals and alloys. For interiors, new constructions contain microcellular or honeycomb cores or glass bubbles.
Although composites, especially carbon fiber-based, receive a lot of attention, most structural materials in commercial aircraft are still metals, primarily aluminum and its alloys. According to a new study of lightweighting materials in transportation, in many cases, aluminum is the best material for the short term, since it doesn't disrupt manufacturing patterns. The Lux Research report, "Structural Navigation: Optimizing Materials Selection in Automotive and Aerospace," contains multiple decision-tree analyses. These help determine which materials are best used where in several transportation applications, now and during the next 10 years.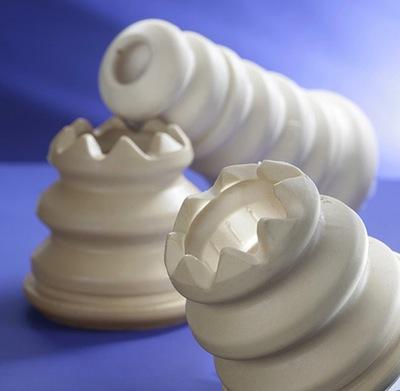 In the last five to seven years the aerospace industry has learned that carbon fiber doesn't make sense for every application, said Tony Morales, Alcoa's global marketing director for aerospace and defense rolled products:
From the design and build standpoint, aluminum has high performance and low weight at a lower cost than the alternatives. It doesn't require building new factories, new hangars, new supply chains, new ovens, or doing R&D for new inspection and repair techniques. In metal wing structures, you only have mass where it's needed. In carbon fiber it's harder to fine-tune complex shapes.
Alcoa is working with aircraft OEMs on new structural approaches that combine selective reinforcement techniques and advanced structural concepts with new materials.
Its third-generation aluminum-lithium alloys, introduced last year, have higher strength-to-weight ratios and better stiffness and corrosion resistance. Their densities range from 2 percent to 10 percent lower than traditional aluminum, depending on the amount of lithium. Most of the new generation is around 5 percent lower density. They are being used in extrusions, forgings, and sheet and plate applications in several aircraft structures, including airplane wings and fuselage. Alcoa expects to reach full production by the end of 2012 in two facilities, and by the end of 2014 in its Lafayette, Ind. facility.
Composite makers are also involved in major efforts to improve their materials as competition with aluminum alloys heats up. The main areas of development include improving strength and toughness, adapting component shapes to specific loads or environmental conditions, and reducing costs by finding better processing methods to speed up laydown rates, said Carmelo Lo Faro, Cytec's vice president of technology.



More Blogs from Engineering Materials

0
New materials handling guidelines from the National Institute for Occupational Safety and Health give recommended engineering controls for nanoscale materials, which just keep proliferating.

3
A new service lets engineers and orthopedic surgeons design and 3D print highly accurate, patient-specific, orthopedic medical implants made of metal -- without owning a 3D printer. Using free, downloadable software, users can import ASCII and binary .STL files, design the implant, and send an encrypted design file to a third-party manufacturer.

39
A recent report sponsored by the American Chemistry Council (ACC) focuses on emerging gasification technologies for converting waste into energy and fuel on a large scale and saving it from the landfill. Some of that waste includes non-recycled plastic.

13
Capping a 30-year quest, GE Aviation has broken ground on the first high-volume factory for producing commercial jet engine components from ceramic matrix composites. The plant will produce high-pressure turbine shrouds for the LEAP Turbofan engine.

15
Seismic shifts in 3D printing materials include an optimization method that reduces the material needed to print an object by 85 percent, research designed to create new, stronger materials, and a new ASTM standard for their mechanical properties.


LATEST ARCHIVED BROADCAST
For industrial control applications, or even a simple assembly line, that machine can go almost 24/7 without a break. But what happens when the task is a little more complex? That's where the "smart" machine would come in. The smart machine is one that has some simple (or complex in some cases) processing capability to be able to adapt to changing conditions. Such machines are suited for a host of applications, including automotive, aerospace, defense, medical, computers and electronics, telecommunications, consumer goods, and so on. This discussion will examine what's possible with smart machines, and what tradeoffs need to be made to implement such a solution.



Datasheets.com Parts Search
185 million searchable parts
(please enter a part number or hit search to begin)