Amid reports of hairline cracks in the wings of its A380 superjumbo, Airbus has delayed making long-term repairs to the passenger jet until 2013. Earlier this year several airlines, including Qantas and Lufthansa, found the cracks in the plane's wings, although Airbus has stated that they don't pose safety risks.
It turns out that the cracks occurred because of a combination of materials and assembly issues, as well as problems with the design process in adapting new materials into an existing design. They were caused by the interface between metal and carbon-fiber composite components inside the double-decker airliner's wings.
"We thought we understood the properties of the materials and the interface between carbon fiber and metal and found out the wrong way we didn't know everything," said the company's chief executive officer Tom Enders at a briefing in Toulouse, France. Airbus also didn't have the right design controls in place to anticipate possible problems, he said.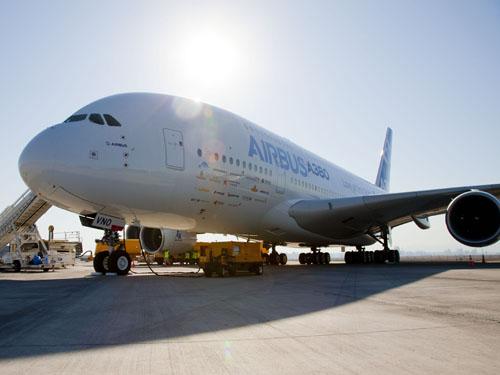 The reason for the cracks has been traced to a not-flexible-enough aluminum alloy used to make the wing brackets, as well as the method for inserting fasteners through holes. The cracks were found in the aluminum L-shaped brackets, called rib feet, that connect the wing's aluminum skin to its structural ribs, which are made from a combination of metal and composites. Each wing contains 2,000 brackets. Airbus will start building replacement wings for the in-service A380s next year using a new type of aluminum, said Enders.
A short-term fix to replace the brackets that takes around five days has been applied to about a third of the A380s currently in service, and will be extended to more in operation. Longer-term repairs to each jet will require the plane to be grounded for eight weeks if the work is done in one sitting. Those repairs can either be done before delivery, or after delivery during "heavy check" maintenance visits after two and four years.
The new, permanent wingset redesign must be approved by the European Aviation Safety Agency before it can be incorporated into future planes. Since it won't be included in new planes until 2013, those planes won't come off the final assembly line until 2014. Meanwhile, Airbus's parent company, European Aeronautic, Defence & Space Co., said that Airbus will assume the costs of repairing wingsets of the A380, which entered service in 2007. The company is negotiating with airlines to schedule the repairs.
Delaying wing replacements until 2013 means that Airbus can't deliver as many A380s during 2012 as it had expected. The company is also slowing delivery of its single-aisle A320.
It's interesting that the cracks were found in the aluminum and not the composites. Earlier this year, Boeing had composite delamination problems in the fuselage of its 787 Dreamliner due to incorrect shim placements. But Boeing said those repairs would require only 10 to 14 days per plane and would not affect future deliveries. If Boeing's problem can be resolved with better shims, and if composites can go to Jupiter, the design issues are more likely to be at fault than are inherent drawbacks in the materials. That also applies to Airbus's problems.
Related posts: