Adhesives used in medical electronics can also help with thermal design. For example, Master Bond's thermally conductive systems, including epoxies, silicones, and other elastomerics, vary in cure speed, viscosity, temperature resistance, flexibility, and thermal conductivity. The company designed its EP21ANHT thermally conductive epoxy system for tightly packed components and miniaturized electronic circuits. It has a low coefficient of thermal expansion of 18-20 in/in x 10-6 per degree centigrade, a dielectric strength of more than 400V/mil, and a tensile shear strength greater than 1,000psi. It resists a wide range of chemicals and adheres to a variety of substrates.
In consumer electronics, stiffer materials that also possess high ductility, flame retardancy for thinner walls, and good resistance to chemicals are becoming popular. As the number of antennas go up, materials must also possess good EMI shielding. For these uses, SABIC offers LNP Verton and Thermocomp compounds and Lexan EXL resins. Its LNP Thermocomp NX11302 polycarbonate/ABS-based thermoplastic compound, for example, provides high-impact resistance for durability, high flexural modulus for thin walls, and dimensional stability.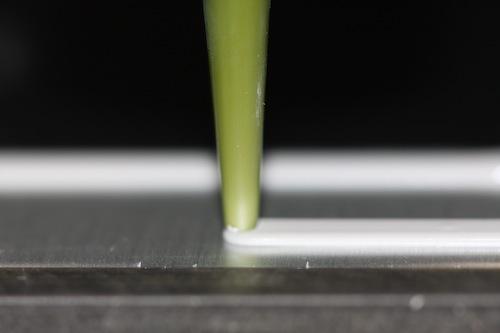 At a smaller scale of electronics, thinned wafers and through-silicon vias (TSVs) are chip packaging technologies enabling thinner, smaller consumer systems. Both are key technologies for stacking thinned wafers in 3D, a chip packaging method that's been mostly in R&D for several years. A 3D TSV market is just now developing for logic and memory chips, and volume production of stacked chip packages are expected to begin next year, Jim Ehle, 3M's marketing manager for electronic markets materials, said in an interview.
Existing 3D stacking methods have produced structures that are still pretty flat. 3M, which has not worked in the semiconductor area before, is partnering with IBM to jointly develop a new class of adhesives and processes that will let as many as 100 chips be stacked at the wafer level. This method will apply adhesive to hundreds of chips at a time, instead of one at a time as is currently done. The adhesives will also efficiently conduct heat through a densely packed stack of chips.
Ehle said:
The challenges include a temporary wafer bonding system. You need thin wafers to etch TSVs, and thin wafers also improve thermal performance. The wafers need to be supported while doing backside grinding before they are diced. Our adhesive bonding process is fast and done at room temperature, because it's UV-cured. Usually before debonding, the wafer is put on a frame, and when you take it off, there's adhesive left on it, but our adhesive peels right off. That temporary bonding and debonding system has been a problem in the TSV market.



More Blogs from Engineering Materials
Instead of sifting through huge amounts of technical data looking for answers to assembly problems, engineers can now benefit from 3M's new initiative -- 3M Assembly Solutions. The company has organized its wealth of adhesive and tape solutions into six typical application areas, making it easier to find the best products to solve their real-world assembly and bonding problems.

2
Many of the materials in this slideshow are resins or elastomers, plus reinforced materials, styrenics, and PLA masterbatches. Applications range from automotive and aerospace to industrial, consumer electronics and wearables, consumer goods, medical and healthcare, as well as sporting goods, and materials for protecting food and beverages.

2
Engineers trying to keep track of the ever-ballooning number of materials and machines for additive manufacturing and 3D printing now have some relief: a free searchable database with more than 350 machines and 450 different materials.
At JEC Europe Dow Automotive introduced a new ultra-fast, under-60-second molding cycle time for its commercial-grade VORAFORCE 5300 epoxy resin matrix for carbon composites. It's aimed at high-volume automotive manufacturing.
A new online manual that describes in detail the range of commercial technologies for joining automotive aluminum components is available free from the Aluminum Association.

Focus on Fundamentals consists of 45-minute on-line classes that cover a host of technologies. You learn without leaving the comfort of your desk. All classes are taught by subject-matter experts and all are archived. So if you can't attend live, attend at your convenience.