Other small monitoring devices include wearable heart monitors in various forms. Astronauts on International Space Station missions are using BodyMedia's FIT Armbands, which look like a large wristwatch, to track their levels of physical activity and sleep patterns. The armbands contain a proprietary four-sensor system that collects 5,000 data points per minute. Its materials include ABS, polycarbonate, polyurethane, nylon, polyester, silicone, and stainless steel.
Another electronic heart monitor, made by iRhythm Technologies, is the wearable, bandage-sized Zio Patch, in a thermoplastic elastomer housing. Compared to the much larger standard heart monitor, the Zio's electronics depend on one lead, not three, and it can gather data for two weeks, not two or three days.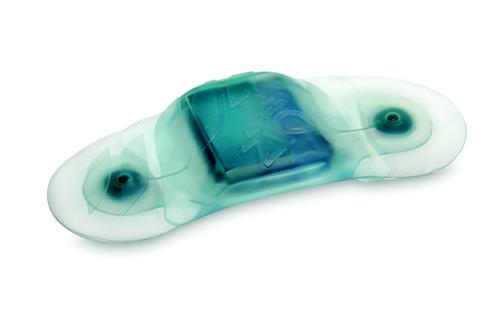 One of the biggest drivers of design and technology crossovers from consumer electronics is the trend toward home healthcare instead of hospitalizing patients. Fallon said:
We are seeing devices used in the home healthcare arena, such as sleep apnea machines, becoming smaller, both for ease of use, which can positively impact patient compliance, and for greater aesthetic appeal. Medical equipment used in the home needs to include design features, such as decorative handles, that make it look like it belongs there, instead of resembling a piece of medical equipment.
For injection molding of healthcare devices, SABIC offers Lexan EXL and Lexan HFD resins, which enable high-flow materials without sacrificing impact and ductility. High flow helps to fill out the mold completely, including fine details like thin walls, or delicate decorative elements. The company's Cycoloy CX resin provides thin walls and flame retardancy, helping devices maintain UL performance while becoming smaller and lighter.
As electronics are more frequently included in miniaturized medical devices, effects on materials not only include greater use of plastics, but also changes in thermally conductive materials. For example, copper, which is common in other electronic devices, can't be used for those that contact patients' bodies.
One new thermal control material is annealed pyrolytic graphite (APG). APG is typically encapsulated within a biocompatible metal, and is a lighter and more efficient solid heat conductor compared to metals such as copper or aluminum. This encapsulation makes APG versatile enough to be used in several medical designs, such as surgical instruments and devices that contact the human body.