A carbon fiber-reinforced ceramic composite material is on its way to Jupiter on the Juno spacecraft. The composite forms an optical bench on the outside of the spacecraft at the end of one of the solar array wings.
The materials manufacturer, SGL Group, exhibited an example of the optical bench at the recent Hannover Fair in Germany. The optical bench is mounted on a stable magnetometer boom, and holds the magnetometer that will measure Jupiter's magnetic field.
Juno, which was launched last August, is scheduled to arrive at Jupiter in 2016. It will orbit Jupiter's poles for about a year, taking the first pictures of the planet's polar regions, making maps of its gravitation and magnetic fields, and measuring the amount of water and ammonia in Jupiter's atmosphere.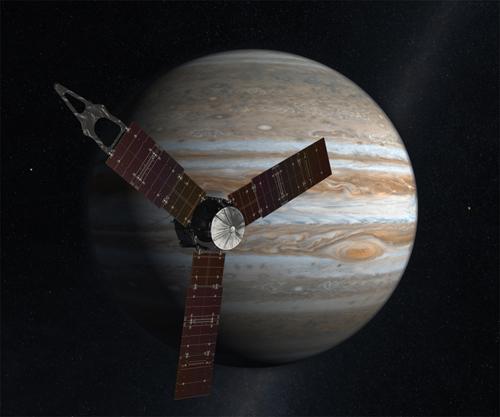 On Earth, optical tables are usually made of a sandwich structure consisting of outer sheets of steel or aluminum, or sometimes carbon fiber, enclosing a honeycomb structure. Optical benches, or rails, are a smaller version, and consist of a long, narrow piece of metal, usually steel or aluminum, shaped like a shallow rain gutter, which components can be bolted onto.
On a spacecraft, the material for this application had to be nonmagnetic, as well as light in weight and extremely strong. At the same time, it had to withstand the high thermal and mechanical stresses that occur during both the launch of the spacecraft and the flight to Jupiter.
SGL said its Sigrasic material, a carbon fiber-reinforced silicon carbide, was chosen as the material for the optical bench because of its balance of properties. Combing carbon fibers with a ceramic matrix gives the material lightweight and high resistance to wear and fracture, as well as enough stability to withstand temperature extremes.
The material is manufactured by infiltrating carbon fiber-reinforced carbon with silicon. Because of the way that the carbon fibers are reinforced, when the hard silicon carbide material is stressed it becomes pseudo-ductile, so it bends instead of breaking. The material is used in structural components for aerospace and industrial applications, as well as components for high-temperature applications, chemical process equipment, and oxidation-resistant and thermal shock-resistant components for glass processing.
A well-known application for the carbon-ceramic material is the brake disk, which debuted in 1999 and appeared as a standard component on the Porsche GT2. It has since been used in other luxury and sports cars.
The optical bench was by collaboration among SGL subsidiary: HITCO Carbon Composites, Electro-Tech Machining, and TQ Abrasives. SGL is exploring other applications for some of the properties of Sigrasic that were utilized in the optical bench, such as its ability to be shaped into complex geometric designs and minimal thermal expansion.
Related posts: