Besides automakers' lightweighting efforts, they're also interested in reducing sound and vibration, both inside and outside the vehicle. A renewable version of Dow Automotive Systems' polyurethane cavity sealing Betafoam system, which achieves both, is now on the market.
Dow's new product, Betafoam Renue, is made with 25 percent renewable materials based on soybean oil, Allan James, performance systems marketing manager for Dow Automotive Systems, told us. It's a two-part polyurethane rigid foam system that offers the same performance as the existing Betafoam system, which is made with low-emissions MDI (methylene diphenyl disocyanate), an ingredient used in polyurethane manufacturing. Renue is 25 percent less dense, however, at a nominal density of 1.45 gm/cc versus BETAFOAM's 2.0 gm/cc.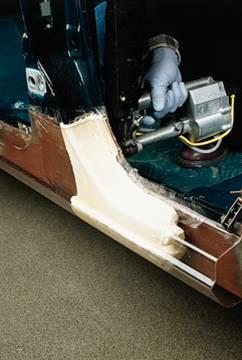 The existing Betafoam 89100 and 89120 products are helping 30 cars now in production lose weight. These include the BMW X3, Dodge Charger, Audi R8, Cadillac CTS, Buick Enclave, and Lamborghini Gallardo. "We've been in this market for about 15 years or so," said James. "With Betafoam Renue, we hope to replace the 89100 and 89120 products first in those models, and then move to others that don't use Betafoam now." The new material has been in trials since October 2011.
Typically, Betafoam is used to seal vehicle cavities, such as A, B, and C pillars and rocker panels to reduce air and road noise and vibration, as well as resonance buildup within the cavity-filler location. It improves acoustical performance by between 1dB and 5dB. Betafoam can completely fill complex, three-dimensional crevices because it is pumped into the cavity, leading to much lower leakage.
The new Renue product can also be processed within the same process window, a critical issue for automakers. "Our customers who are replacing with the Renue product want to know that we can process it within the same temperature versus rate window," said James. "We not only match the window of current production, but with Renue there's a broader window of processing temperature by rate: we can run lower rates and temperatures."
Earlier this year, in a talk he gave at the Applied Market Information Bioplastics Compounding and Processing 2012 Conference, James detailed the performance and processing advantages of Betafoam over traditional baffles. The results of a repeatability side-by-side analysis on 25 production vehicles showed fewer leaks and lighter weight with the cavity sealing foam system, and a potential mass savings of up to 30 percent, depending on cavity size. Lower material viscosity and faster reactivity produced additional manufacturing efficiencies.
Renue was developed partly with a grant from the United Soybean Board. Since it's derived from oils, not soy protein, it does not affect food crop production, said James. "This is an industrial product, more of a byproduct of food production."
Related posts: