A team headed by Siemens researchers have developed a substitute material for ABS by making a polymer from starch, palm oil, and carbon dioxide. The new material, a mixture containing poly-hydroxybutyrate (PHB), has similar properties.
The unnamed plastic is the result of a three-year project, funded by the German Research Ministry, for research into the use of CO2 as a possible feedstock for polymers. In addition to scientists at Siemens' corporate technology global research unit, project partners included researchers from BASF, well known as a leader in sustainable plastics and chemicals, as well as Munich Technical University, and the University of Hamburg.
More than 70 percent of the new plastic is made of renewable polymers. The PHB, which is made from raw materials such as palm oil and starch, is brittle. So BASF's polypropylene carbonate (PPC) was added to soften it. PPC is transparent, biodegradable, and resistant to light, and can also be processed easily. By weight, it is 43 percent CO2, which came from power plant emissions using a separation process.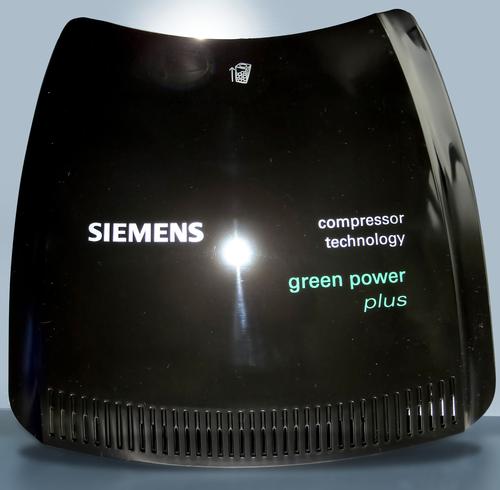 Standard polystyrene-based ABS, or acrylonitrite-butadiene-styrene, is an engineering-grade plastic frequently used in consumer electronics products. In the last few years, concern about styrene's toxicity has led to a search for alternatives. Although the jury is still out on whether it has cancerous effects, styrene is regarded as a hazardous chemical, at least for eye contact, skin contact, and ingestion or inhalation. The Environmental Protection Agency has listed it as a suspected toxin and is investigating its potential as a carcinogen, as is the US National Toxicity Program of the Department of Health and Human Services.
The Siemens-led research team found that the new material is a good alternative for ABS. To demonstrate its practicality, Bosch-Siemens-Hausgeräte (BSH) made a vacuum cleaner cover out of the material. As a next step, the Siemens scientists, along with BSH and BASF, want to investigate whether they can replace other types of plastic that BSH uses with composite materials based on CO2.
Other efforts have been made to corral CO2 and make it useful, including as a renewable feedstock for polymers. Novomer has partnered with Penford to jointly develop and commercialize composites that combine starch and PPC polymer for use in packaging materials. Starch blended co-polymers are not new. Usually, they combine starches with petrochemical-derived polymers. Bioplastics based on starch have been used in packaging and other consumer goods for several years. But creating them from CO2 certainly is new.
Novomer is also commercializing a catalyst system that turns waste CO2 into polymers for applications that include packaging, sacrificial materials, and coating resins. Using the catalyst to combine CO2 with ethylene oxide creates polyethylene carbonate (PEC), while combining CO2 with propylene oxide creates PPC. The resulting low molecular weight polymers can be used for coating resins and adhesives, while high molecular weight polymers include thermoplastics and sacrificial materials for electronics.
Related posts: