Recycled and plant-based composites are being used in underhood components of the British Lola-Drayson B12/69EV race car, which will compete in the 2013 FIA Formula E World Championship Series.
Jointly developed by Lola Group and Drayson Racing Technologies, the 850HP B12/69EV prototope was designed and built to demonstrate the potential of sustainable technologies in the harsh and demanding environment of sports cars. It incorporates advances such as inductive charging, composite battery power, moveable aerodynamics, and electrical regenerative damping.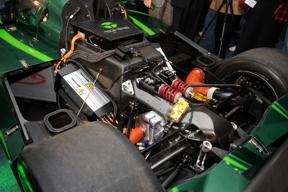 Umeco, structural composite maker for aerospace and automotive applications, co-developed the recycled composites and flax-reinforced composites with two different sets of partners. For the recycled materials, the company worked with ELG Carbon Fibre Ltd. and WMG at the University of Warwick. ELG reclaimed end-of-life carbon fibers from Umeco's MTM49 epoxy prepreg and re-impregnated them with Umeco's MTM49 toughened epoxy resin.
WMG, Lola, and Umeco performed several tests to assess how the material's mechanical and impact properties stack up against the properties of the original virgin prepregs. The tests showed that there had been a minimal loss of strength from virgin prepreg, while fiber stiffness was similar.
Umeco's partners in co-developing the flax-reinforced composites were WMG and Composites Evolution Ltd. WMG conducted extensive research and testing, while Composites Evolution supplied the woven flax material. Umeco impregnated the flax-reinforced material with its MTM28 and MTM49 epoxy resins, developed originally for components that require high damage tolerance. Flax fibers were selected because their mechanical properties are similar to those of glass fibers, but their weight and environmental impact are much lower. Flax fibers also have extremely good insulating and vibration damping characteristics.
Lola has since manufactured parts for the B12/69EV using the recycled MTM49 product, as well as the MTM28/Biotex Flax and MTM49/Biotex Flax.
Related posts: