What could be a major advance in repairing composite structures bodes well for commercial aircraft such as the Boeing 787 Dreamliner and Airbus A350XWB, which contain composites in large proportions of their structures. The new method combines robots and lasers to make repair more consistent and less expensive.
GKN Aerospace, which is the first UK company to use one of the British National Composites Centre's new automated fiber placement machines, is also pioneering the use of robotics in composites repair. GKN Aerospace is one of Boeing's composite aerostructure suppliers.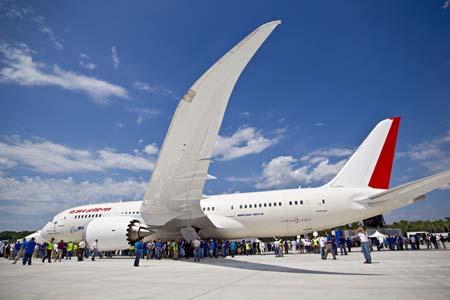 In conjunction with its program partner SCLR Lasertechnik GmbH, GKN Aerospace is deploying laser technology to automate repair. The company said in a statement that repaired structures have the same strength as can be achieved with current manual repair techniques, but repairs are more consistent and cost as much as 60 percent less.
Manual repair techniques typically involve time-consuming grinding away of damaged structures. The new robotic cell, housed at GKN Aerospace's composites research center in the UK, is the first prototype robotic machine that uses laser technology to remove damaged composite structures on aircraft.



More Blogs from Engineering Materials

8
Inspired by the hooks a parasitic worm uses to penetrate its host's intestines, the Karp Lab has invented a flexible adhesive patch covered with microneedles that adheres well to wet, soft tissues, but doesn't cause damage when removed.

3
Engineers at the University of California, San Diego are designing a robotic arm that takes inspiration from the loose, flexible, yet very strong structure of the armored plates on a seahorse's tail.

19
Researchers at the Missouri University of Science & Technology have designed a new nanoscale material that can transmit light faster than the 186,000 miles per second it usually takes to travel through air.

44
It has often been said that as California goes, so goes the nation. This spring, the state's wind power is setting energy generation records and solar energy generation is expected to rise sharply during the second half of 2013.

21
The latest model of Liquid Robotics' Wave Glider autonomous, unmanned marine vehicle (UMV), the SV3, is reportedly the world's first hybrid wave- and solar-power-propelled unmanned ocean robot.


A quick look into the merger of two powerhouse 3D printing OEMs and the new leader in rapid prototyping solutions, Stratasys. The industrial revolution is now led by 3D printing and engineers are given the opportunity to fully maximize their design capabilities, reduce their time-to-market and functionally test prototypes cheaper, faster and easier. Bruce Bradshaw, Director of Marketing in North America, will explore the large product offering and variety of materials that will help CAD designers articulate their product design with actual, physical prototypes. This broadcast will dive deep into technical information including application specific stories from real world customers and their experiences with 3D printing. 3D Printing is




Datasheets.com Parts Search
185 million searchable parts
(please enter a part number or hit search to begin)