Alternative energy often means the better-known sources like solar, wind power, or biofuels. A new form of alternative fuels recovers energy from post-consumer or post-industrial plastic wastes that cannot be recycled efficiently. Technologies for creating these fuels attempt to solve two big problems: the overabundance of unrecycled plastic in landfills, and the creation of domestic energy sources. Several of these plastics-to-fuel (PTF) conversion processes are on the verge of commercialization in the US.
The waste-to-energy (WTE) industry began by approaching polymer wastes as a problem to be eliminated, but failed to come up with financially feasible methods, Jay Schabel, CEO of PolyFlow, told us. Previously, the only purpose for creating fuels was burning them for heat, but the quality and selling price of those fuels is low. Schabel says:
You can't sort your way to financially sustainable success. With a toothbrush made of different plastics, for example, the materials you can recover can never justify the effort it takes to sort them. So if a technology had a high cost of sorting on the front end, and produced a product with a cheap selling price, it couldn't survive.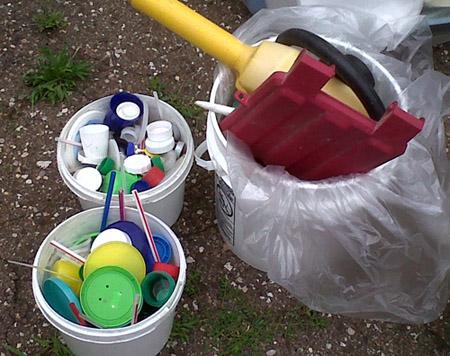 Plastics-to-fuel energy recovery methods offer a different approach by creating technologies that can become profitable. These technologies are aimed at the non-recycled plastics (NRPs) that would otherwise go into landfills, since the highest-BTU waste stream available is polymer.
In conventional WTE plants, municipal solid waste (MSW) is burned and the heat is used to produce steam in a closed-loop process, Jeff Wooster, global sustainability leader for Dow Performance Plastics, told us. That steam either produces process heat for operations like paper mills or utilities, or it's converted to electricity. This produces lots of energy from plastic and a fair amount from paper and wood, but very little energy from other sources.
WTE processes are the least efficient for plastic, said Greg Wilkinson, past president of the Canadian Plastics Industry Association. "Recovered fuel is more selective. Here, you take some components of the waste stream and turn them into fuel for narrower uses."



More Blogs from Engineering Materials

1
New materials handling guidelines from the National Institute for Occupational Safety and Health give recommended engineering controls for nanoscale materials, which just keep proliferating.

4
A new service lets engineers and orthopedic surgeons design and 3D print highly accurate, patient-specific, orthopedic medical implants made of metal -- without owning a 3D printer. Using free, downloadable software, users can import ASCII and binary .STL files, design the implant, and send an encrypted design file to a third-party manufacturer.

39
A recent report sponsored by the American Chemistry Council (ACC) focuses on emerging gasification technologies for converting waste into energy and fuel on a large scale and saving it from the landfill. Some of that waste includes non-recycled plastic.

13
Capping a 30-year quest, GE Aviation has broken ground on the first high-volume factory for producing commercial jet engine components from ceramic matrix composites. The plant will produce high-pressure turbine shrouds for the LEAP Turbofan engine.

15
Seismic shifts in 3D printing materials include an optimization method that reduces the material needed to print an object by 85 percent, research designed to create new, stronger materials, and a new ASTM standard for their mechanical properties.


LATEST ARCHIVED BROADCAST
For industrial control applications, or even a simple assembly line, that machine can go almost 24/7 without a break. But what happens when the task is a little more complex? That's where the "smart" machine would come in. The smart machine is one that has some simple (or complex in some cases) processing capability to be able to adapt to changing conditions. Such machines are suited for a host of applications, including automotive, aerospace, defense, medical, computers and electronics, telecommunications, consumer goods, and so on. This discussion will examine what's possible with smart machines, and what tradeoffs need to be made to implement such a solution.



Datasheets.com Parts Search
185 million searchable parts
(please enter a part number or hit search to begin)