The second big motivator for PTF is the price of oil. Making gasoline or diesel fuel using oil costs more than $800 per ton, according to Schabel:
With the price of oil going up and up, now the less viable technologies are becoming more viable, and energy recovery processes are now aiming at fuel as the end product. Those business models have a higher selling price, so there's more profit. If oil goes below $50 to $60 per barrel, they can't make money. The cost of oil will always set the price.
Every ton of plastic PolyFlow puts into its pyrolysis conversion machines contains 33 million BTUs of energy, Schabel added.
We add 1.7 million BTUs to run the process and the facility. The liquid we get out from that ton of material has 27 million BTUs. So we can put fuel back into the larger local economy where it's been generated. We're taking the output of Cleveland and shipping it back in, instead of shipping oil halfway around the world.>
PolyFlow's target is to set up plants outside landfills in several areas. It is building the first full-scale processor that will begin running in October 2012.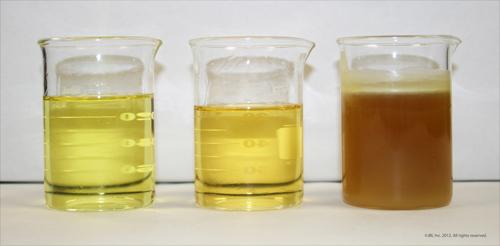 JBI's process converts plastic back into virgin feedstock and produces either an in-spec fuel or the original monomer. The resulting fuel conforms to ASTM D396, which governs heating oil, furnace oils, diesel, and gasoline, said CEO John Bordynuik.
We don't sell fuel to refineries, but direct to end users. Refineries don't like synthetic crude because it doesn't have the same components or properties that crude has. Our residue is petroleum coke, which can be used in steel making.
The process is also a closed-loop system that makes hydrogen and other gases. Bordynuik says:
Up to 10 percent of the waste feedstock we put in is converted into gas, and that fuels the entire process, eliminating the energy costs to run the machine. We've scaled from 1 gallon to 2 tons per hour, in an area less than 1,200 square feet, so it's a small package. We've got three machines per building, so you seed one end, and pull fuel out the other. Two people can operate the three machines on each shift for 140 tons per day.
Blest is a pioneer in PTF technologies, selling compact, highly efficient continuous pyrolysis processors since 2002, and commercial-sized units since 2007. These range from capacities of 22 pounds of plastic per hour, producing 2.7 gallons of oil per hour, to a system handling 10 times those amounts. Like other PTF systems, they are scalable by connecting multiple units and running them in parallel.



More Blogs from Engineering Materials

7
Airbus Defence and Space has 3D printed titanium brackets for communications satellites. The redesigned, one-piece 3D-printed brackets have better thermal resistance than conventionally manufactured parts, can be produced faster, cost 20% less, and save about 1 kg of weight per satellite.

1
At IMTS last week, Stratasys introduced two new multi-materials PolyJet 3D printers, plus a new UV-resistant material for its FDM production 3D printers. They can be used in making jigs and fixtures, as well as prototypes and small runs of production parts.

5
GE Aviation not only plans to use 3D printing to mass-produce metal parts for its LEAP jet engine, but it's also developing a separate technology for 3D-printing metal parts used in its other engines.

31
The demand for solar energy around the world will grow a total of 75% by 2019, according to a new report by Lux Research. Trade disputes and policy changes, though, will complicate the picture.

7
Bayer MaterialScience is using CO2 to produce a precursor for high-quality polyurethane foam at its pilot plant in Leverkusen. The transition to full-scale manufacturing is expected in 2016.

Focus on Fundamentals consists of 45-minute on-line classes that cover a host of technologies. You learn without leaving the comfort of your desk. All classes are taught by subject-matter experts and all are archived. So if you can't attend live, attend at your convenience.
Next Class: September 30 - October 2