The second big motivator for PTF is the price of oil. Making gasoline or diesel fuel using oil costs more than $800 per ton, according to Schabel:
With the price of oil going up and up, now the less viable technologies are becoming more viable, and energy recovery processes are now aiming at fuel as the end product. Those business models have a higher selling price, so there's more profit. If oil goes below $50 to $60 per barrel, they can't make money. The cost of oil will always set the price.
Every ton of plastic PolyFlow puts into its pyrolysis conversion machines contains 33 million BTUs of energy, Schabel added.
We add 1.7 million BTUs to run the process and the facility. The liquid we get out from that ton of material has 27 million BTUs. So we can put fuel back into the larger local economy where it's been generated. We're taking the output of Cleveland and shipping it back in, instead of shipping oil halfway around the world.>
PolyFlow's target is to set up plants outside landfills in several areas. It is building the first full-scale processor that will begin running in October 2012.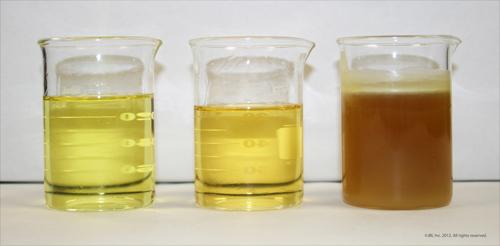 JBI's process converts plastic back into virgin feedstock and produces either an in-spec fuel or the original monomer. The resulting fuel conforms to ASTM D396, which governs heating oil, furnace oils, diesel, and gasoline, said CEO John Bordynuik.
We don't sell fuel to refineries, but direct to end users. Refineries don't like synthetic crude because it doesn't have the same components or properties that crude has. Our residue is petroleum coke, which can be used in steel making.
The process is also a closed-loop system that makes hydrogen and other gases. Bordynuik says:
Up to 10 percent of the waste feedstock we put in is converted into gas, and that fuels the entire process, eliminating the energy costs to run the machine. We've scaled from 1 gallon to 2 tons per hour, in an area less than 1,200 square feet, so it's a small package. We've got three machines per building, so you seed one end, and pull fuel out the other. Two people can operate the three machines on each shift for 140 tons per day.
Blest is a pioneer in PTF technologies, selling compact, highly efficient continuous pyrolysis processors since 2002, and commercial-sized units since 2007. These range from capacities of 22 pounds of plastic per hour, producing 2.7 gallons of oil per hour, to a system handling 10 times those amounts. Like other PTF systems, they are scalable by connecting multiple units and running them in parallel.



More Blogs from Engineering Materials

39
A recent report sponsored by the American Chemistry Council (ACC) focuses on emerging gasification technologies for converting waste into energy and fuel on a large scale and saving it from the landfill. Some of that waste includes non-recycled plastic.

13
Capping a 30-year quest, GE Aviation has broken ground on the first high-volume factory for producing commercial jet engine components from ceramic matrix composites. The plant will produce high-pressure turbine shrouds for the LEAP Turbofan engine.

15
Seismic shifts in 3D printing materials include an optimization method that reduces the material needed to print an object by 85 percent, research designed to create new, stronger materials, and a new ASTM standard for their mechanical properties.

15
A recent study finds that 3D printing is both cheaper and greener than traditional factory-based mass manufacturing and distribution. At least, it's true for making consumer plastic products on open-source, low-cost RepRap printers.

19
Engineers are using more plastics derived from petroleum, biological sources, and recycled materials in consumer electronics, automotive, healthcare, and offshore oil and gas applications.


LATEST ARCHIVED BROADCAST
For industrial control applications, or even a simple assembly line, that machine can go almost 24/7 without a break. But what happens when the task is a little more complex? That's where the "smart" machine would come in. The smart machine is one that has some simple (or complex in some cases) processing capability to be able to adapt to changing conditions. Such machines are suited for a host of applications, including automotive, aerospace, defense, medical, computers and electronics, telecommunications, consumer goods, and so on. This discussion will examine what's possible with smart machines, and what tradeoffs need to be made to implement such a solution.



Datasheets.com Parts Search
185 million searchable parts
(please enter a part number or hit search to begin)