Industry consensus is growing that as much post-industrial and post-consumer plastics should be recycled as possible, as long as it's both cost-effective and environmentally efficient. Otherwise, energy recovery becomes the best solution. For example, NRPs may be contaminated, such as single-serve items used in a fast-food restaurant, or may be unrecyclable because multiple types are mixed and recycling would consume too much energy or water, said Keith Christman, managing director of plastic markets for the plastics division of the American Chemistry Council (ACC).
In contrast to mechanical recycling, where plastics are chopped up or melted and turned into another plastic product, chemical recycling turns polymers into chemical feedstock via depolymerization or into fuel via pyrolysis. Other processes, solid recovery fuel (SRF) or refuse derived fuel (RDF), take mixed paper and plastics and produce compressed pellets used in paper mills, cement kilns, and coal-fired plants, said Wooster. They are common in Europe.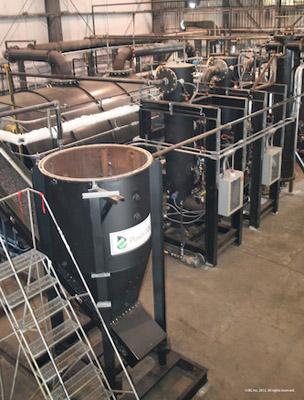 Plastic-to-fuel usually refers to pyrolysis, according to "Conversion technology: A complement to plastic recycling," a landmark research report by 4R Sustainability and funded by the ACC. Pyrolysis is the thermochemical decomposition of a material without the presence of air or oxygen. It heats materials to very high temperatures, resulting in their physical phase change.
Pyrolysis typically results in about 65 percent diesel-like fuel, about 5 percent heavier-weight or waste-product fuel, and about 30 percent vaporous gas, according to Wooster. This gas can be burned within the same plant to power the pyrolysis process. These efficiencies are much higher than turning fossil fuel or natural gas into electricity, which is only about 33 1/3 percent efficient. "That's why it doesn't make sense to burn natural gas in a plant to make electricity, and then heat homes with that electricity."
Any of these energy-recovery processes can be used for either post-consumer or post-industrial waste, but some work better with known sources. A process that works only with a specific plastic feedstock is better suited for post-industrial waste, since contamination is more likely with post-consumer waste.
RDF works with any plastic, but the energy content differs. Polyethylene and polypropylene have the highest energy content and polyethylene terephthalate or polyester have the lowest energy content. Some of the newer processes work better with some plastics than with others, said Wooster.