Alternative energy often means the better-known sources like solar, wind power, or biofuels. A new form of alternative fuels recovers energy from post-consumer or post-industrial plastic wastes that cannot be recycled efficiently. Technologies for creating these fuels attempt to solve two big problems: the overabundance of unrecycled plastic in landfills, and the creation of domestic energy sources. Several of these plastics-to-fuel (PTF) conversion processes are on the verge of commercialization in the US.
The waste-to-energy (WTE) industry began by approaching polymer wastes as a problem to be eliminated, but failed to come up with financially feasible methods, Jay Schabel, CEO of PolyFlow, told us. Previously, the only purpose for creating fuels was burning them for heat, but the quality and selling price of those fuels is low. Schabel says:
You can't sort your way to financially sustainable success. With a toothbrush made of different plastics, for example, the materials you can recover can never justify the effort it takes to sort them. So if a technology had a high cost of sorting on the front end, and produced a product with a cheap selling price, it couldn't survive.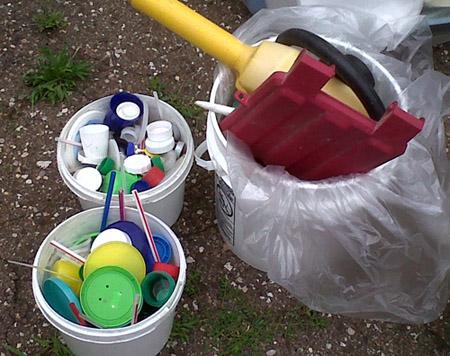 Plastics-to-fuel energy recovery methods offer a different approach by creating technologies that can become profitable. These technologies are aimed at the non-recycled plastics (NRPs) that would otherwise go into landfills, since the highest-BTU waste stream available is polymer.
In conventional WTE plants, municipal solid waste (MSW) is burned and the heat is used to produce steam in a closed-loop process, Jeff Wooster, global sustainability leader for Dow Performance Plastics, told us. That steam either produces process heat for operations like paper mills or utilities, or it's converted to electricity. This produces lots of energy from plastic and a fair amount from paper and wood, but very little energy from other sources.
WTE processes are the least efficient for plastic, said Greg Wilkinson, past president of the Canadian Plastics Industry Association. "Recovered fuel is more selective. Here, you take some components of the waste stream and turn them into fuel for narrower uses."



More Blogs from Engineering Materials

0
As the 3D printing and overall additive manufacturing ecosystem grows, standards and guidelines from standards bodies and government organizations are increasing. Multiple players with multiple needs are also driving the role of 3DP and AM as enabling technologies for distributed manufacturing.

4
A growing though not-so-obvious role for 3D printing, 4D printing, and overall additive manufacturing is their use in fabricating new materials and enabling new or improved manufacturing and assembly processes. Individual engineers, OEMs, university labs, and others are reinventing the technology to suit their own needs.

0
For vehicles to meet the 2025 Corporate Average Fuel Economy (CAFE) standards, three things must happen: customers must look beyond the data sheet and engage materials supplier earlier, and new integrated multi-materials are needed to make step-change improvements.

3
3D printing, 4D printing, and various types of additive manufacturing (AM) will get even bigger in 2015. We're not talking about consumer use, which gets most of the attention, but processes and technologies that will affect how design engineers design products and how manufacturing engineers make them. For now, the biggest industries are still aerospace and medical, while automotive and architecture continue to grow.

4
More and more -- that's what we'll see from plastics and composites in 2015, more types of plastics and more ways they can be used. Two of the fastest-growing uses will be automotive parts, plus medical implants and devices. New types of plastics will include biodegradable materials, plastics that can be easily recycled, and some that do both.

Focus on Fundamentals consists of 45-minute on-line classes that cover a host of technologies. You learn without leaving the comfort of your desk. All classes are taught by subject-matter experts and all are archived. So if you can't attend live, attend at your convenience.
Last Archived Class