An engineering team at Duke University has invented a process that can change the texture of a soft polymer by changing the voltage applied to it. The plastic's surface texture can be switched from rough to smooth, and back again, in a few milliseconds.
The standard process for texturizing plastics, electrostatic lithography, is a permanent one that uses an electrode located above the polymer to etch patterns onto its surface. Once those patterns have been etched, they can't be changed. The Duke team found that it could change surface textures from dots, to circles, to lines, to smooth over large and curved areas by applying different voltages.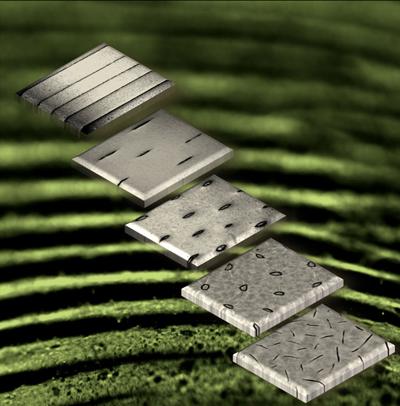 Xuanhe Zhao, assistant professor of mechanical engineering and materials science at Duke's Pratt School of Engineering, who led the team, said in a press release that possible applications of the new dynamic electrostatic lithography process could include climbing or gripping gloves that change texture and smoothness on demand as they adapt to varying surfaces. Other uses might include creating surfaces that are self-cleaning and water-repellant, or that serve as platforms for devices that deliver drugs in a controlled release. Additional applications could be in technologies such as microfluidics and camouflage.
"We invented a method which is capable of dynamically generating a rich variety of patterns with various shapes and sizes on large areas of soft plastics or polymers," Zhao said. "The changeable patterns we have created in the laboratory include circles and straight and curved lines, which are basic elements of fingerprints. These elements can be dynamically patterned and changed on a glove surface that covers fingertips."
"This new approach can dynamically switch polymer surfaces among various patterns ranging from dots, segments, lines, to circles," said Qiming Wang, a student in Zhao's laboratory and the first author of the paper describing the team's results. "The switching is also very fast, within milliseconds, and the pattern sizes can be tuned from millimeter to sub-micrometer."
Zhao's earlier experiments showed that as an applied voltage increases, polymers tend to start creasing, which eventually leads to the formation of large craters. The research helps explain, for example, why polymers used to insulate high-voltage electrical wires tend to fail over time.
Other members of the current engineering research team included undergraduate student Mukarram Tahir and postdoctoral fellow Jianfeng Zang. The Duke study was supported by the Research Triangle Materials Research Science and Engineering Center, which is funded by the National Science Foundation. Additional support came from the Lord Foundation and a Haythornthwaite Research Initiation grant.
Related posts: