Now, the programming, design, and production of a functional robot takes several years, is extremely expensive, and involves multiple disciplines, such as hardware and software design, advanced programming technique, and machine learning and vision. The research team's goal in the new project is to automate the process of producing functional 3D objects. Interestingly, the other major goal is to let ordinary people design and build fully functioning robots from everyday materials like sheets of paper, not an entirely new idea in 3D printing.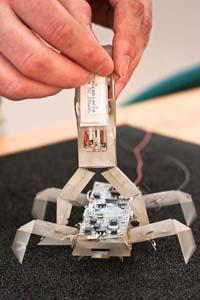 "Our vision is to develop an end-to-end process; specifically, a compiler for building physical machines that starts with a high level of specification of function, and delivers a programmable machine for that function using simple printing processes," said Rus in a press release. "We believe that [this research] has the potential to transform manufacturing and to democratize access to robots."
Researchers' topics of interest are focused on a number of areas, including developing an application programming interface (API) for function specification and design, writing algorithms to control assembly and operation of a device, creating an easy-to-use programming language environment, and designing new, programmable materials for automatically fabricating robots.
In addition to Rus, other members of the CSAIL team include Martin Demaine, Wojciech Matusik, Martin Rinard, and Sangbae Kim of MIT's department of mechanical engineering. The NSF project team also includes Harvard University's associate professor Rob Wood.
Related posts: