A research program that aims to let consumers produce their own customized robots with 3D printers and paper hopes to create a platform that allows people to identify household problems that can be solved by a robot, select a blueprint from a library of designs at a local printing store, customize a robotic device that can solve the problem, and then produce a fully assembled, fully programmed robot within 24 hours.
With funding from the National Science Foundation (NSF) to the tune of a $10 million grant, a team of experts from several leading robotics labs will participate in the five-year project, called "An Expedition in Computing for Compiling Printable Programmable Machines." The project is part of the NSF's "Expeditions in Computing" program, and will be led by MIT professor Daniela Rus, a principal investigator at MIT's Computer Science and Artificial Intelligence Lab (CSAIL). CSAIL is the same lab that came up with the 3D navigating robot.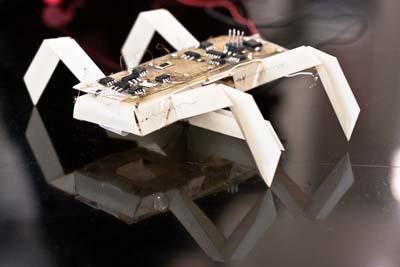 So far, the researchers have prototyped two machines that could be designed, printed, and programmed with a 3D printer. These are an insect-like robot that could explore contaminated or inaccessible areas, and a gripping device for people with limited mobility. All of these efforts are designed to help speed and simplify the labor of developers in industry and university researchers working on new design platforms. The project targets faster and cheaper design and manufacturing by developing a desktop technology that lets the average person design, customize, and print a specialized robot in a few hours.
Professor Vijay Kumar, who is leading the team from the University of Pennsylvania, is also the head of the General Robotics, Automation, Sensing, and Perception (GRASP) Laboratory there, which is responsible for the tiny flying, swarming robots we reported on recently. His team in the NSF project will include Andre DeHon, Sanjeev Khanna, and Insup Lee.



More Blogs from Engineering Materials

3
A new service lets engineers and orthopedic surgeons design and 3D print highly accurate, patient-specific, orthopedic medical implants made of metal -- without owning a 3D printer. Using free, downloadable software, users can import ASCII and binary .STL files, design the implant, and send an encrypted design file to a third-party manufacturer.

39
A recent report sponsored by the American Chemistry Council (ACC) focuses on emerging gasification technologies for converting waste into energy and fuel on a large scale and saving it from the landfill. Some of that waste includes non-recycled plastic.

13
Capping a 30-year quest, GE Aviation has broken ground on the first high-volume factory for producing commercial jet engine components from ceramic matrix composites. The plant will produce high-pressure turbine shrouds for the LEAP Turbofan engine.

15
Seismic shifts in 3D printing materials include an optimization method that reduces the material needed to print an object by 85 percent, research designed to create new, stronger materials, and a new ASTM standard for their mechanical properties.

15
A recent study finds that 3D printing is both cheaper and greener than traditional factory-based mass manufacturing and distribution. At least, it's true for making consumer plastic products on open-source, low-cost RepRap printers.


LATEST ARCHIVED BROADCAST
For industrial control applications, or even a simple assembly line, that machine can go almost 24/7 without a break. But what happens when the task is a little more complex? That's where the "smart" machine would come in. The smart machine is one that has some simple (or complex in some cases) processing capability to be able to adapt to changing conditions. Such machines are suited for a host of applications, including automotive, aerospace, defense, medical, computers and electronics, telecommunications, consumer goods, and so on. This discussion will examine what's possible with smart machines, and what tradeoffs need to be made to implement such a solution.



Datasheets.com Parts Search
185 million searchable parts
(please enter a part number or hit search to begin)