Volvo Trucks is using SABIC's Valox iQ polybutylene terephthalate (PBT) resin, made in part out of recycled plastic bottles, for the brackets of the side air deflection system in all seven models of its 2012 Volvo VN family of heavy trucks.
Although many other recycled plastics typically lose performance after undergoing successive melt histories, the upcycled Valox iQ resins have comparable or better performance than conventionally manufactured materials, including excellent resistance to impact, chemicals, and stress fatigue.
"Upcycling costs more and is harder to do technically," Kenneth Miller, sustainability general manager for technology and innovation at SABIC Innovative Plastics, told us, at the NPE2012 show in Orlando, Fla. "The need to improve fuel efficiency and dramatically reduce weight is pushing truck manufacturers to find lightweighting solutions. For example, some heavy truck manufacturers are trying to reduce their models' weights from six tons to five tons." Volvo's action is the first time an upcycled material made from post-consumer recycled content has been used in a North American heavy truck.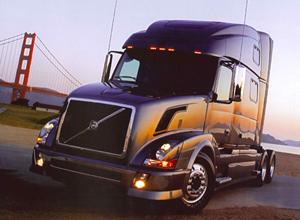 SABIC worked closely with Volvo to achieve a sustainable materials solution that was also a high performing one, providing application development and technical support, said Miller. "Sustainability requires more collaboration between SABIC and our customers, especially because of shorter design cycles. Sometimes, we find that what looks like a materials problem is really a design problem." Additional lightweighting is achieved in the Volvo truck family with SABIC 's Noryl GTX resin for the fenders, Cycoloy resin for the grille, and clear Lexan resin for forward lighting.
SABIC's Valox iQ resin contains up to 60 percent post-consumer recycled content and can help reduce the resin's carbon footprint by up to 49 percent compared to virgin PBT resins, Michael Gilbert, Innovative Plastics general manager, told me. "For every kilogram of Valox iQ we use about 0.85 kg of PET bottles in a chemical recycling process. SABIC is also a net consumer of recycled plastic in our own facilities, especially our Lexan polycarbonate and Valox PBT and polyester." Valox iQ PBT resin also has about 10 percent to 15 percent higher flow than standard PBT resins.
Related posts:



More Blogs from Engineering Materials

2
A new service lets engineers and orthopedic surgeons design and 3D print highly accurate, patient-specific, orthopedic medical implants made of metal -- without owning a 3D printer. Using free, downloadable software, users can import ASCII and binary .STL files, design the implant, and send an encrypted design file to a third-party manufacturer.

39
A recent report sponsored by the American Chemistry Council (ACC) focuses on emerging gasification technologies for converting waste into energy and fuel on a large scale and saving it from the landfill. Some of that waste includes non-recycled plastic.

13
Capping a 30-year quest, GE Aviation has broken ground on the first high-volume factory for producing commercial jet engine components from ceramic matrix composites. The plant will produce high-pressure turbine shrouds for the LEAP Turbofan engine.

15
Seismic shifts in 3D printing materials include an optimization method that reduces the material needed to print an object by 85 percent, research designed to create new, stronger materials, and a new ASTM standard for their mechanical properties.

15
A recent study finds that 3D printing is both cheaper and greener than traditional factory-based mass manufacturing and distribution. At least, it's true for making consumer plastic products on open-source, low-cost RepRap printers.


LATEST ARCHIVED BROADCAST
For industrial control applications, or even a simple assembly line, that machine can go almost 24/7 without a break. But what happens when the task is a little more complex? That's where the "smart" machine would come in. The smart machine is one that has some simple (or complex in some cases) processing capability to be able to adapt to changing conditions. Such machines are suited for a host of applications, including automotive, aerospace, defense, medical, computers and electronics, telecommunications, consumer goods, and so on. This discussion will examine what's possible with smart machines, and what tradeoffs need to be made to implement such a solution.



Datasheets.com Parts Search
185 million searchable parts
(please enter a part number or hit search to begin)