When I was a kid, we had a periscope you could make out of a cardboard tube and two small hand mirrors. We used it to peek above tables we were hiding under, or around corners, and spy on our friends or play varieties of hide and seek games. Now there's a video camera system that can do the same, and record what it sees with what amounts to very, very fast frame rates.
The video system, called Cornar, was created by researchers at the Massachusetts Institute of Technology's Media Lab, led by associate professor Ramesh Raskar. It can look beyond the line of sight, as well as peer around corners. Instead of using an angled mirror at each end of the periscope to reflect and redirect light, Cornar deploys ordinary surfaces that aren't usually considered to be reflective, like walls, doors, or floors.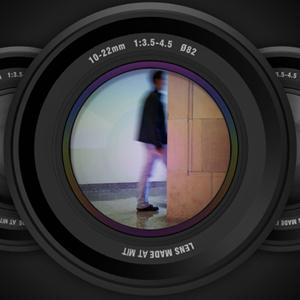 Conar is based on a femtosecond laser, which is wicked fast, and a picosecond detector. Bursts of light generated by the laser reflect off of multiple surfaces and reconstruct a 3D image.
The laser fires femtosecond bursts of light at a surface, for example, the wall opposite the doorway of a room. The light reflects off of that surface and into the room, where it bounces around, reflecting off of many more surfaces and acting as a flash. Eventually, the bursts re-emerge and strike a detector that takes measurements every few picoseconds. By sampling light at picosecond levels of accuracy, the researchers say they can reconstruct shapes with centimeter levels of accuracy. (You can watch a video demonstrating this process here.)
The system repeats this entire process multiple times, bouncing bursts of light off of several different spots on the wall, so groups of bursts enter the room at several different angles. The detector also measures the returning light at their different returning different angles.



More Blogs from Engineering Materials
Many of the new adhesives we're featuring in this slideshow are for use in automotive and other transportation applications. The rest of these new products are for a wide variety of applications including aviation, aerospace, electrical motors, electronics, industrial, and semiconductors.

1
A Columbia University team working on molecular-scale nano-robots with moving parts has run into wear-and-tear issues. They've become the first team to observe in detail and quantify this process, and are devising coping strategies by observing how living cells prevent aging.

1
Many of the new materials on display at MD&M West were developed to be strong, tough replacements for metal parts in different kinds of medical equipment: IV poles, connectors for medical devices, medical device trays, and torque-applying instruments for orthopedic surgery. Others are made for close contact with patients.
New sensor technology integrates sensors, traces, and electronics into a smart fabric for wearables that measures more dimensions -- force, location, size, twist, bend, stretch, and motion -- and displays data in 3D maps.
As we saw on the show floor this week at the Pacific Design & Manufacturing and co-located events in Anaheim, Calif., 3D printing is contributing to distributed manufacturing and being reinvented by engineers for their own needs. Meanwhile, new fasteners are appearing for wearable consumer and medical devices and Baxter Robot has another software upgrade.

Focus on Fundamentals consists of 45-minute on-line classes that cover a host of technologies. You learn without leaving the comfort of your desk. All classes are taught by subject-matter experts and all are archived. So if you can't attend live, attend at your convenience.