When I was a kid, we had a periscope you could make out of a cardboard tube and two small hand mirrors. We used it to peek above tables we were hiding under, or around corners, and spy on our friends or play varieties of hide and seek games. Now there's a video camera system that can do the same, and record what it sees with what amounts to very, very fast frame rates.
The video system, called Cornar, was created by researchers at the Massachusetts Institute of Technology's Media Lab, led by associate professor Ramesh Raskar. It can look beyond the line of sight, as well as peer around corners. Instead of using an angled mirror at each end of the periscope to reflect and redirect light, Cornar deploys ordinary surfaces that aren't usually considered to be reflective, like walls, doors, or floors.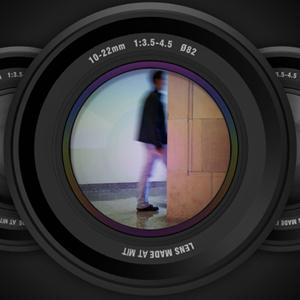 Conar is based on a femtosecond laser, which is wicked fast, and a picosecond detector. Bursts of light generated by the laser reflect off of multiple surfaces and reconstruct a 3D image.
The laser fires femtosecond bursts of light at a surface, for example, the wall opposite the doorway of a room. The light reflects off of that surface and into the room, where it bounces around, reflecting off of many more surfaces and acting as a flash. Eventually, the bursts re-emerge and strike a detector that takes measurements every few picoseconds. By sampling light at picosecond levels of accuracy, the researchers say they can reconstruct shapes with centimeter levels of accuracy. (You can watch a video demonstrating this process here.)
The system repeats this entire process multiple times, bouncing bursts of light off of several different spots on the wall, so groups of bursts enter the room at several different angles. The detector also measures the returning light at their different returning different angles.



More Blogs from Engineering Materials

3
A new service lets engineers and orthopedic surgeons design and 3D print highly accurate, patient-specific, orthopedic medical implants made of metal -- without owning a 3D printer. Using free, downloadable software, users can import ASCII and binary .STL files, design the implant, and send an encrypted design file to a third-party manufacturer.

39
A recent report sponsored by the American Chemistry Council (ACC) focuses on emerging gasification technologies for converting waste into energy and fuel on a large scale and saving it from the landfill. Some of that waste includes non-recycled plastic.

13
Capping a 30-year quest, GE Aviation has broken ground on the first high-volume factory for producing commercial jet engine components from ceramic matrix composites. The plant will produce high-pressure turbine shrouds for the LEAP Turbofan engine.

15
Seismic shifts in 3D printing materials include an optimization method that reduces the material needed to print an object by 85 percent, research designed to create new, stronger materials, and a new ASTM standard for their mechanical properties.

15
A recent study finds that 3D printing is both cheaper and greener than traditional factory-based mass manufacturing and distribution. At least, it's true for making consumer plastic products on open-source, low-cost RepRap printers.


LATEST ARCHIVED BROADCAST
For industrial control applications, or even a simple assembly line, that machine can go almost 24/7 without a break. But what happens when the task is a little more complex? That's where the "smart" machine would come in. The smart machine is one that has some simple (or complex in some cases) processing capability to be able to adapt to changing conditions. Such machines are suited for a host of applications, including automotive, aerospace, defense, medical, computers and electronics, telecommunications, consumer goods, and so on. This discussion will examine what's possible with smart machines, and what tradeoffs need to be made to implement such a solution.



Datasheets.com Parts Search
185 million searchable parts
(please enter a part number or hit search to begin)