The US, the European Union (EU), and Japan have taken China to task for restricting the trade of rare earth minerals. In a statement on fair trade, President Obama said that the US was bringing a trade case against China, aided by Japan and the US's European allies.
Obama couched the action with the World Trade Organization (WTO) in terms of America's manufacturing robustness, or rather, in terms of its lack of robustness, because rare earth materials are needed by US manufacturers to produce a variety of technology-based products, such as batteries for cell phones and hybrid cars.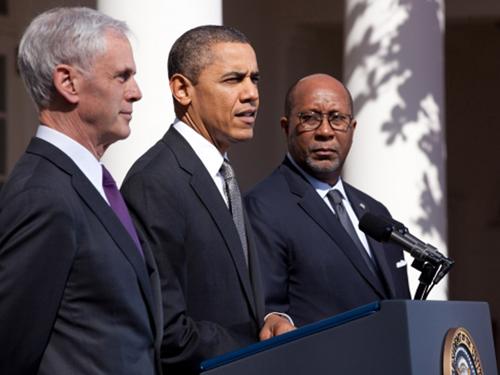 "We want our companies building those products right here in America," said Obama. "But to do that, American manufacturers need to have access to rare earth materials -- which China supplies. Now, if China would simply let the market work on its own, we'd have no objections. But their policies currently are preventing that from happening. And they go against the very rules that China agreed to follow. Being able to manufacture advanced batteries and hybrid cars in America is too important for us to stand by and do nothing. We've got to take control of our energy future, and we can't let that energy industry take root in some other country because they were allowed to break the rules."
The nearly identical requests for consultation from all three entities formally initiate a dispute within the WTO. The disputes are followed by consultations, which are discussions under the WTO's dispute settlement system. The expectation is that the parties will find a solution without having to resort to litigation. But if consultations fail to resolve the dispute after 60 days, the initiators of the complaint may request a panel's judgment.



More Blogs from Engineering Materials
The grab bag of plastic and rubber materials featured in this new product slideshow are aimed at lighting applications or automotive uses. The rest are for a wide variety of industries, including aerospace, oil & gas, RF and radar, automotive, building materials, and more.

2
A new 3D printer that prints fully functional electronics -- like quadcopters -- will be available later this year from Voxel8, brainchild of Harvard prof Jennifer A. Lewis.

0
Many of the new adhesives we're featuring in this slideshow are for use in automotive and other transportation applications. The rest of these new products are for a wide variety of applications including aviation, aerospace, electrical motors, electronics, industrial, and semiconductors.
A Columbia University team working on molecular-scale nano-robots with moving parts has run into wear-and-tear issues. They've become the first team to observe in detail and quantify this process, and are devising coping strategies by observing how living cells prevent aging.
Many of the new materials on display at MD&M West were developed to be strong, tough replacements for metal parts in different kinds of medical equipment: IV poles, connectors for medical devices, medical device trays, and torque-applying instruments for orthopedic surgery. Others are made for close contact with patients.

Focus on Fundamentals consists of 45-minute on-line classes that cover a host of technologies. You learn without leaving the comfort of your desk. All classes are taught by subject-matter experts and all are archived. So if you can't attend live, attend at your convenience.