The US, the European Union (EU), and Japan have taken China to task for restricting the trade of rare earth minerals. In a statement on fair trade, President Obama said that the US was bringing a trade case against China, aided by Japan and the US's European allies.
Obama couched the action with the World Trade Organization (WTO) in terms of America's manufacturing robustness, or rather, in terms of its lack of robustness, because rare earth materials are needed by US manufacturers to produce a variety of technology-based products, such as batteries for cell phones and hybrid cars.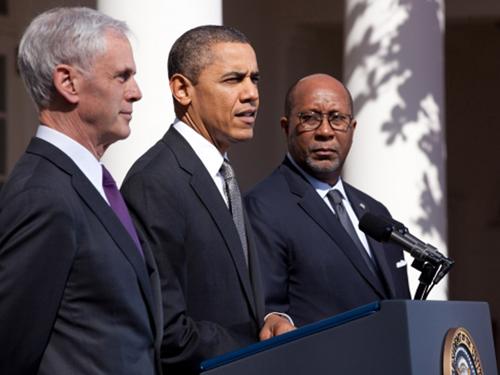 "We want our companies building those products right here in America," said Obama. "But to do that, American manufacturers need to have access to rare earth materials -- which China supplies. Now, if China would simply let the market work on its own, we'd have no objections. But their policies currently are preventing that from happening. And they go against the very rules that China agreed to follow. Being able to manufacture advanced batteries and hybrid cars in America is too important for us to stand by and do nothing. We've got to take control of our energy future, and we can't let that energy industry take root in some other country because they were allowed to break the rules."
The nearly identical requests for consultation from all three entities formally initiate a dispute within the WTO. The disputes are followed by consultations, which are discussions under the WTO's dispute settlement system. The expectation is that the parties will find a solution without having to resort to litigation. But if consultations fail to resolve the dispute after 60 days, the initiators of the complaint may request a panel's judgment.



More Blogs from Engineering Materials

3
The 100% solar-powered airplane Solar Impulse 2 is prepping for its upcoming flight, becoming the first plane to fly around the world without using fuel. It's able to do so because of above-average performance by all of the technologies that go into it, especially materials.

0
As the 3D printing and overall additive manufacturing ecosystem grows, standards and guidelines from standards bodies and government organizations are increasing. Multiple players with multiple needs are also driving the role of 3DP and AM as enabling technologies for distributed manufacturing.

4
A growing though not-so-obvious role for 3D printing, 4D printing, and overall additive manufacturing is their use in fabricating new materials and enabling new or improved manufacturing and assembly processes. Individual engineers, OEMs, university labs, and others are reinventing the technology to suit their own needs.

0
For vehicles to meet the 2025 Corporate Average Fuel Economy (CAFE) standards, three things must happen: customers must look beyond the data sheet and engage materials supplier earlier, and new integrated multi-materials are needed to make step-change improvements.

3
3D printing, 4D printing, and various types of additive manufacturing (AM) will get even bigger in 2015. We're not talking about consumer use, which gets most of the attention, but processes and technologies that will affect how design engineers design products and how manufacturing engineers make them. For now, the biggest industries are still aerospace and medical, while automotive and architecture continue to grow.

Focus on Fundamentals consists of 45-minute on-line classes that cover a host of technologies. You learn without leaving the comfort of your desk. All classes are taught by subject-matter experts and all are archived. So if you can't attend live, attend at your convenience.
Last Archived Class