The US, the European Union (EU), and Japan have taken China to task for restricting the trade of rare earth minerals. In a statement on fair trade, President Obama said that the US was bringing a trade case against China, aided by Japan and the US's European allies.
Obama couched the action with the World Trade Organization (WTO) in terms of America's manufacturing robustness, or rather, in terms of its lack of robustness, because rare earth materials are needed by US manufacturers to produce a variety of technology-based products, such as batteries for cell phones and hybrid cars.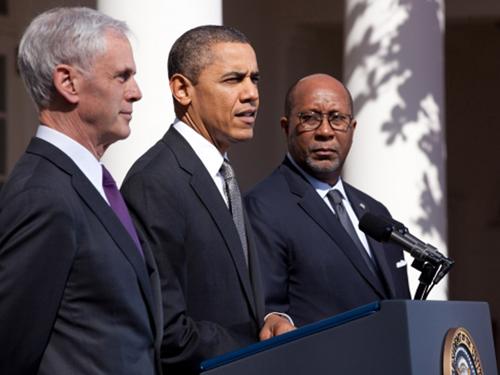 "We want our companies building those products right here in America," said Obama. "But to do that, American manufacturers need to have access to rare earth materials -- which China supplies. Now, if China would simply let the market work on its own, we'd have no objections. But their policies currently are preventing that from happening. And they go against the very rules that China agreed to follow. Being able to manufacture advanced batteries and hybrid cars in America is too important for us to stand by and do nothing. We've got to take control of our energy future, and we can't let that energy industry take root in some other country because they were allowed to break the rules."
The nearly identical requests for consultation from all three entities formally initiate a dispute within the WTO. The disputes are followed by consultations, which are discussions under the WTO's dispute settlement system. The expectation is that the parties will find a solution without having to resort to litigation. But if consultations fail to resolve the dispute after 60 days, the initiators of the complaint may request a panel's judgment.



More Blogs from Engineering Materials

8
Inspired by the hooks a parasitic worm uses to penetrate its host's intestines, the Karp Lab has invented a flexible adhesive patch covered with microneedles that adheres well to wet, soft tissues, but doesn't cause damage when removed.

3
Engineers at the University of California, San Diego are designing a robotic arm that takes inspiration from the loose, flexible, yet very strong structure of the armored plates on a seahorse's tail.

19
Researchers at the Missouri University of Science & Technology have designed a new nanoscale material that can transmit light faster than the 186,000 miles per second it usually takes to travel through air.

44
It has often been said that as California goes, so goes the nation. This spring, the state's wind power is setting energy generation records and solar energy generation is expected to rise sharply during the second half of 2013.

21
The latest model of Liquid Robotics' Wave Glider autonomous, unmanned marine vehicle (UMV), the SV3, is reportedly the world's first hybrid wave- and solar-power-propelled unmanned ocean robot.


A quick look into the merger of two powerhouse 3D printing OEMs and the new leader in rapid prototyping solutions, Stratasys. The industrial revolution is now led by 3D printing and engineers are given the opportunity to fully maximize their design capabilities, reduce their time-to-market and functionally test prototypes cheaper, faster and easier. Bruce Bradshaw, Director of Marketing in North America, will explore the large product offering and variety of materials that will help CAD designers articulate their product design with actual, physical prototypes. This broadcast will dive deep into technical information including application specific stories from real world customers and their experiences with 3D printing. 3D Printing is




Datasheets.com Parts Search
185 million searchable parts
(please enter a part number or hit search to begin)