A prototype aluminum composite brake rotor has been developed that could weigh 60 percent less than cast iron rotors, last three times as long, and could be cheap enough for the mass market.
The rotor is the result of joint research by the metal matrix composite maker REL and a team at the Polytechnic Institute of New York University (NYU-Poly). It is made from a new fiber-reinforced metal matrix composite designed for volume manufacturing applications. The researchers say the composite rotors would cut about 30 pounds overall from the average midsize sedan. They may also help reduce weight in military armored vehicles, which would help their fuel last longer in situations where fuel delivery is difficult.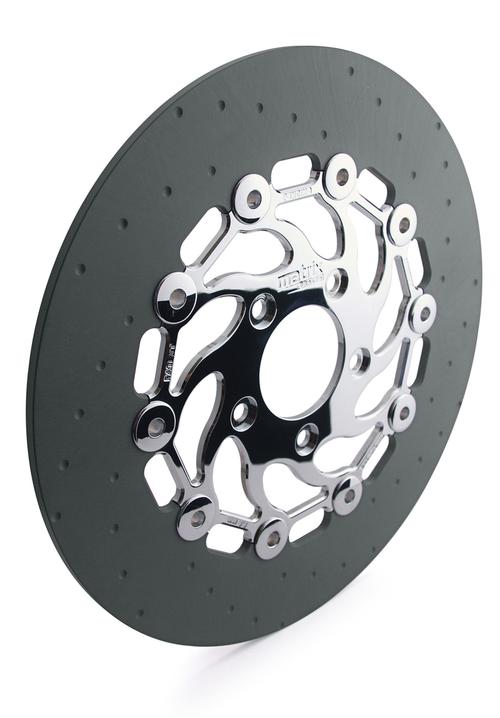 The expense of composite brakes has limited their use to motorcycles, race cars, and high-performance sports cars. The researchers specifically set out to create a material that is easier to manufacture, and they designed the fiber reinforcements for a longer life span. Making automotive brake components more durable has been a longstanding research goal, since they must operate in an environment with tremendous temperature and pressure changes.
REL, which makes transportation and aerospace components out of metal matrix composites, received a $150,000 Phase I Small Business Innovation Research Grant from the National Science Foundation to come up with the initial product design, the metal matrix composite material, and the manufacturing process. The NYU-Poly research team consists of Nikhil Gupta, an associate professor of mechanical and aerospace engineering, and students in his Composites Materials and Mechanics Lab. The team helped to develop the technology for automotive applications.
Most brake rotors are made of cast iron, a strong material that weighs a lot and does not respond well to the varying demands placed on different sections of a brake rotor. Temperature and pressure changes across the rotor's surface are major causes of wear, warp, and brake failure. To function optimally, each of the rotor's three functional sections typically requires a material that has a specific combination of strain and thermal properties.



More Blogs from Engineering Materials

3
A new service lets engineers and orthopedic surgeons design and 3D print highly accurate, patient-specific, orthopedic medical implants made of metal -- without owning a 3D printer. Using free, downloadable software, users can import ASCII and binary .STL files, design the implant, and send an encrypted design file to a third-party manufacturer.

39
A recent report sponsored by the American Chemistry Council (ACC) focuses on emerging gasification technologies for converting waste into energy and fuel on a large scale and saving it from the landfill. Some of that waste includes non-recycled plastic.

13
Capping a 30-year quest, GE Aviation has broken ground on the first high-volume factory for producing commercial jet engine components from ceramic matrix composites. The plant will produce high-pressure turbine shrouds for the LEAP Turbofan engine.

15
Seismic shifts in 3D printing materials include an optimization method that reduces the material needed to print an object by 85 percent, research designed to create new, stronger materials, and a new ASTM standard for their mechanical properties.

15
A recent study finds that 3D printing is both cheaper and greener than traditional factory-based mass manufacturing and distribution. At least, it's true for making consumer plastic products on open-source, low-cost RepRap printers.


LATEST ARCHIVED BROADCAST
For industrial control applications, or even a simple assembly line, that machine can go almost 24/7 without a break. But what happens when the task is a little more complex? That's where the "smart" machine would come in. The smart machine is one that has some simple (or complex in some cases) processing capability to be able to adapt to changing conditions. Such machines are suited for a host of applications, including automotive, aerospace, defense, medical, computers and electronics, telecommunications, consumer goods, and so on. This discussion will examine what's possible with smart machines, and what tradeoffs need to be made to implement such a solution.



Datasheets.com Parts Search
185 million searchable parts
(please enter a part number or hit search to begin)