It costs less than a quarter of the $1,400 bill of materials estimated for the Japanese Defense Ministry's flying sphere. The battery gives it a running time of only 12 minutes. And its CPU is only a 468MHz ARM9. But the AR.Drone 2.0, which Parrot introduced at this year's Consumer Electronics Show, has impressive hovering, takeoff, and landing abilities similar to those of the Japanese sphere. (You can access videos here and here.)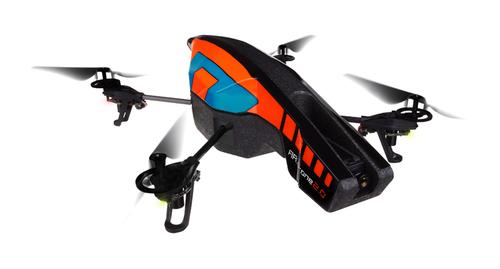 The AR.Drone 2.0 is the second version of the popular flying robot, which its maker calls a flying, augmented reality video game. It's got on-board video cameras and WiFi for streaming video to the handheld control device, which can be an iPod Touch, iPhone, or iPad. Though it was designed for Apple platforms, it will be available on other hardware "in the next few months," the company says. It can also be controlled with a Linux PC and a joystick using the AR.Drone Navigation software, which is available for free and was designed for application developers.
With some imagination and better electronics, the robot could be both cheap and powerful enough to form a design platform for machine vision and military applications. It's also really cool to look at, and I bet it's a lot of fun to play with. If I were an engineer, I'd want to figure out how to make it more powerful without weighing too much more or compromising its moves.
The Parrot quadricopter is made of carbon fiber and high-resistance PA66 plastic, a polyamide, or nylon. Its embedded CPU runs Linux, and memory is kept at a low 128Mbytes of 200MHz DDR. Running speed is 16.4 feet per second, or 11.2mph. With its protective hull for indoor use, it measures 20.7 inches x 20.3 inches. Outdoors, without the hull, the Parrot measures 17.7 inches x 11.4 inches. With or without the hull, it weighs less than a pound.



More Blogs from Engineering Materials

8
Inspired by the hooks a parasitic worm uses to penetrate its host's intestines, the Karp Lab has invented a flexible adhesive patch covered with microneedles that adheres well to wet, soft tissues, but doesn't cause damage when removed.

3
Engineers at the University of California, San Diego are designing a robotic arm that takes inspiration from the loose, flexible, yet very strong structure of the armored plates on a seahorse's tail.

19
Researchers at the Missouri University of Science & Technology have designed a new nanoscale material that can transmit light faster than the 186,000 miles per second it usually takes to travel through air.

44
It has often been said that as California goes, so goes the nation. This spring, the state's wind power is setting energy generation records and solar energy generation is expected to rise sharply during the second half of 2013.

21
The latest model of Liquid Robotics' Wave Glider autonomous, unmanned marine vehicle (UMV), the SV3, is reportedly the world's first hybrid wave- and solar-power-propelled unmanned ocean robot.


A quick look into the merger of two powerhouse 3D printing OEMs and the new leader in rapid prototyping solutions, Stratasys. The industrial revolution is now led by 3D printing and engineers are given the opportunity to fully maximize their design capabilities, reduce their time-to-market and functionally test prototypes cheaper, faster and easier. Bruce Bradshaw, Director of Marketing in North America, will explore the large product offering and variety of materials that will help CAD designers articulate their product design with actual, physical prototypes. This broadcast will dive deep into technical information including application specific stories from real world customers and their experiences with 3D printing. 3D Printing is




Datasheets.com Parts Search
185 million searchable parts
(please enter a part number or hit search to begin)