It costs less than a quarter of the $1,400 bill of materials estimated for the Japanese Defense Ministry's flying sphere. The battery gives it a running time of only 12 minutes. And its CPU is only a 468MHz ARM9. But the AR.Drone 2.0, which Parrot introduced at this year's Consumer Electronics Show, has impressive hovering, takeoff, and landing abilities similar to those of the Japanese sphere. (You can access videos here and here.)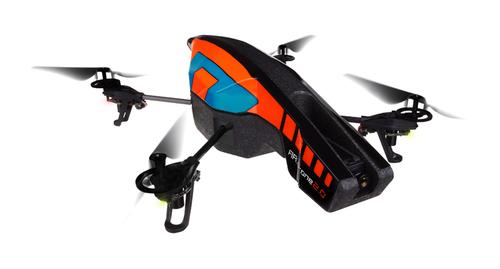 The AR.Drone 2.0 is the second version of the popular flying robot, which its maker calls a flying, augmented reality video game. It's got on-board video cameras and WiFi for streaming video to the handheld control device, which can be an iPod Touch, iPhone, or iPad. Though it was designed for Apple platforms, it will be available on other hardware "in the next few months," the company says. It can also be controlled with a Linux PC and a joystick using the AR.Drone Navigation software, which is available for free and was designed for application developers.
With some imagination and better electronics, the robot could be both cheap and powerful enough to form a design platform for machine vision and military applications. It's also really cool to look at, and I bet it's a lot of fun to play with. If I were an engineer, I'd want to figure out how to make it more powerful without weighing too much more or compromising its moves.
The Parrot quadricopter is made of carbon fiber and high-resistance PA66 plastic, a polyamide, or nylon. Its embedded CPU runs Linux, and memory is kept at a low 128Mbytes of 200MHz DDR. Running speed is 16.4 feet per second, or 11.2mph. With its protective hull for indoor use, it measures 20.7 inches x 20.3 inches. Outdoors, without the hull, the Parrot measures 17.7 inches x 11.4 inches. With or without the hull, it weighs less than a pound.



More Blogs from Engineering Materials

0
As the 3D printing and overall additive manufacturing ecosystem grows, standards and guidelines from standards bodies and government organizations are increasing. Multiple players with multiple needs are also driving the role of 3DP and AM as enabling technologies for distributed manufacturing.

4
A growing though not-so-obvious role for 3D printing, 4D printing, and overall additive manufacturing is their use in fabricating new materials and enabling new or improved manufacturing and assembly processes. Individual engineers, OEMs, university labs, and others are reinventing the technology to suit their own needs.

0
For vehicles to meet the 2025 Corporate Average Fuel Economy (CAFE) standards, three things must happen: customers must look beyond the data sheet and engage materials supplier earlier, and new integrated multi-materials are needed to make step-change improvements.

3
3D printing, 4D printing, and various types of additive manufacturing (AM) will get even bigger in 2015. We're not talking about consumer use, which gets most of the attention, but processes and technologies that will affect how design engineers design products and how manufacturing engineers make them. For now, the biggest industries are still aerospace and medical, while automotive and architecture continue to grow.

4
More and more -- that's what we'll see from plastics and composites in 2015, more types of plastics and more ways they can be used. Two of the fastest-growing uses will be automotive parts, plus medical implants and devices. New types of plastics will include biodegradable materials, plastics that can be easily recycled, and some that do both.

Focus on Fundamentals consists of 45-minute on-line classes that cover a host of technologies. You learn without leaving the comfort of your desk. All classes are taught by subject-matter experts and all are archived. So if you can't attend live, attend at your convenience.
Last Archived Class