Embedded vision systems are still relatively new in machine vision, but there are several out on the market now. Some of them include cameras, others are primarily a controller box. They come in a wide range, from fairly simple pre-integrated systems like PPT Vision's, to very high-end units with insanely fast camera shutter speeds and slo-mo video playback abilities, like Photron's. The newest is a powerful embedded vision system from Adlink Technology that falls somewhere between these two extremes.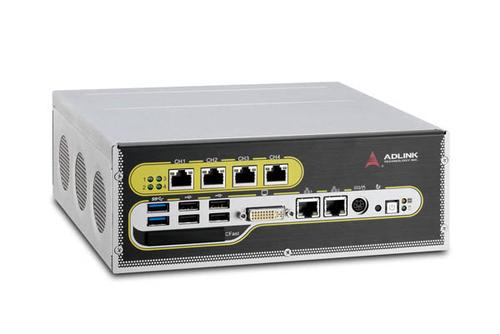 Adlink's EOS-1200 targets manufacturing engineers and quality control engineers building multi-camera imaging applications where 24/7 uptime is needed, such as factory automation, and food and packaging inspection. It combines Power over Ethernet (PoE) and USB camera interfaces for flexibility and ease of integration. The fact that these two interfaces are based on general-purpose protocols, instead of interface standards based on bus protocols designed specifically for vision, makes the unit easier to integrate, since the buses are already widely available in many different types of off-the-shelf hardware.
Combining multiple ports for camera interfaces based on different standards is a growing trend in embedded vision systems, especially those that must incorporate and integrate multiple cameras based on multiple interface protocols. All those cameras must also be synchronized. Unlike most other embedded vision controllers, the EOS-1200 supports the IEEE 1588 Precision Time Protocol (PTP). This protocol enables the use of a software trigger for synchronized image capture with minimal jitter, increasingly important in complex multi-camera networks.
The new system has four independent 1Gbit/s PoE ports with an overall data transfer rate up to 4Gbit/s, two USB 3.0 ports at 3.2Gbit/s each, and four USB 2.0 ports at 480Mbit/s. Its dual SATA interfaces support 2.5-inch SATA drives for RAID storage configurations. The single Ethernet cable enabled by PoE delivers power, transfers data, and provides data synchronization, simplifying cabling, and making a more compact solution. The unit measures 230mm x 82mm x 206mm.



More Blogs from Engineering Materials
The grab bag of plastic and rubber materials featured in this new product slideshow are aimed at lighting applications or automotive uses. The rest are for a wide variety of industries, including aerospace, oil & gas, RF and radar, automotive, building materials, and more.

2
A new 3D printer that prints fully functional electronics -- like quadcopters -- will be available later this year from Voxel8, brainchild of Harvard prof Jennifer A. Lewis.

0
Many of the new adhesives we're featuring in this slideshow are for use in automotive and other transportation applications. The rest of these new products are for a wide variety of applications including aviation, aerospace, electrical motors, electronics, industrial, and semiconductors.
A Columbia University team working on molecular-scale nano-robots with moving parts has run into wear-and-tear issues. They've become the first team to observe in detail and quantify this process, and are devising coping strategies by observing how living cells prevent aging.
Many of the new materials on display at MD&M West were developed to be strong, tough replacements for metal parts in different kinds of medical equipment: IV poles, connectors for medical devices, medical device trays, and torque-applying instruments for orthopedic surgery. Others are made for close contact with patients.

Focus on Fundamentals consists of 45-minute on-line classes that cover a host of technologies. You learn without leaving the comfort of your desk. All classes are taught by subject-matter experts and all are archived. So if you can't attend live, attend at your convenience.