We've seen recycled bottles turned into car seats for Ford's 2012 Focus electric vehicle. And we've seen plans by Boeing to recycle composites used in its Dreamliner plane for nonstructural uses in aircraft. Now recycled bottles and other plastic products destined for landfills have been turned into structural, weight-bearing elements of a 90-foot heavy-load bridge in Scotland.
Recycled Structural Composite (RSC), a proprietary composite thermoplastic material from Axion International, is made from 100 percent recycled plastics. RSC is also 100 percent recyclable at the end of its useful life. The material won't rot, crumble, splinter, rust, or corrode, and it requires no painting or regular maintenance. In other words, it is a type of Trex building material, but instead of going into your back deck, it's designed for heavy-duty manufacturing uses such as railroad ties and heavy-load bridge elements like I-beams, pilings, and boards.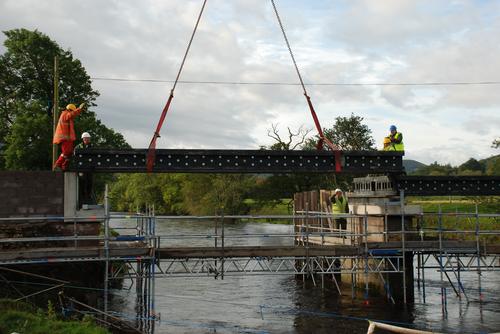 Axion constructed the bridge's components at its plant in Pennsylvania and shipped them in six sections to Scotland, where the bridge spans the River Tweed at Easter Dawyck near Edinburgh. It was assembled and erected in four days (You can see a picture gallery here). Recycling the materials in the bridge prevented 50 tons of plastic waste from going into a landfill or being shipped to Asia, Anil Aggarwal, director of the Welsh firm Vertech Composites, one of Axion's partners in the project, said in a press release. The bridge, which is also the longest to date built with recycled plastic, meets European standards with a load rating of 45 metric tons.
The three-span bridge, which measures about 12 feet wide by 90 feet long, replaces an old road bridge made of steel beams and timber decking. It is the first recycled plastic bridge outside the US. Axion has built several US bridges from its RSC material, most recently in North Carolina.
Axion developed its RSC material in conjunction with Rutgers University's Materials Sciences and Engineering Department. Vertech plans to manufacture its own high-performance composite sheet materials, using Rutgers University's polymer blending and processing technology, for use in the European construction industry. These composite materials will serve as a replacement for the less environmentally friendly plywood, MDF, and laminates.



More Blogs from Engineering Materials

3
A new service lets engineers and orthopedic surgeons design and 3D print highly accurate, patient-specific, orthopedic medical implants made of metal -- without owning a 3D printer. Using free, downloadable software, users can import ASCII and binary .STL files, design the implant, and send an encrypted design file to a third-party manufacturer.

39
A recent report sponsored by the American Chemistry Council (ACC) focuses on emerging gasification technologies for converting waste into energy and fuel on a large scale and saving it from the landfill. Some of that waste includes non-recycled plastic.

13
Capping a 30-year quest, GE Aviation has broken ground on the first high-volume factory for producing commercial jet engine components from ceramic matrix composites. The plant will produce high-pressure turbine shrouds for the LEAP Turbofan engine.

15
Seismic shifts in 3D printing materials include an optimization method that reduces the material needed to print an object by 85 percent, research designed to create new, stronger materials, and a new ASTM standard for their mechanical properties.

15
A recent study finds that 3D printing is both cheaper and greener than traditional factory-based mass manufacturing and distribution. At least, it's true for making consumer plastic products on open-source, low-cost RepRap printers.


LATEST ARCHIVED BROADCAST
For industrial control applications, or even a simple assembly line, that machine can go almost 24/7 without a break. But what happens when the task is a little more complex? That's where the "smart" machine would come in. The smart machine is one that has some simple (or complex in some cases) processing capability to be able to adapt to changing conditions. Such machines are suited for a host of applications, including automotive, aerospace, defense, medical, computers and electronics, telecommunications, consumer goods, and so on. This discussion will examine what's possible with smart machines, and what tradeoffs need to be made to implement such a solution.



Datasheets.com Parts Search
185 million searchable parts
(please enter a part number or hit search to begin)